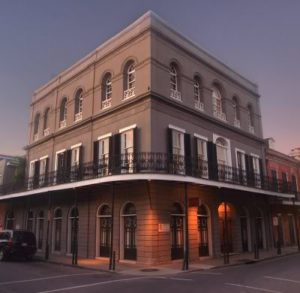 By Kristi O'Toole
In honor of Mardis Gras I thought, what better way to celebrate the beauty and mysticism of 'Nawlins' than by covering a few of the most terrifying stories to come from the city. So grab some gumbo and your favorite plush crawfish and snuggle in for a few scary tales.
Let's dive right in with the Mistress of Death herself, Madame LaLaurie.
The haunted history of the LaLaurie Mansion in New Orleans is perhaps one of the most terrifying stories of haunted houses in the city. For more than 150 years tragedy in the form of brutal excess slavery filled the four walls of the LaLaurie mansion. To this day it is still considered the most haunted location in the French Quarter. Be warned this story is not for the faint of heart nor for the weak of stomach either.
The origin of the ghastly tale dates back to 1832 when Dr. Louis Lalaurie and his wife, Delphine, moved into their Creole mansion in the French Quarter. They became renowned for their social affairs and were respected for their wealth and prominence. By anyone's standards the mansion at 1140 Royal Street was lavishly decorated with no expense spared. Madame Lalaurie was considered one of the most intelligent and beautiful women in the city and those who received her attentions at the wonderful social affairs could not stop talking about her. LaLaurie would bustle about the house seeing that her guests every need was tended.
But this was the side of Madame Lalaurie that friends and admirers were allowed to see. There was another side, a much darker side that resided just beneath her delicate and refined exterior. Madame LaLaurie was in fact a cruel, cold blooded and possibly insane woman that some only suspected, but unfortunately others knew as fact.
The LaLauries owned dozens of slaves in order to keep the house as Madame LaLaurie insisted it stay, perfect. Back in those days the owning of slaves was common place, however the unfathomable treatment of the LaLaurie slaves was not. The cook remained chained to the stove while the others weren't nearly as lucky.
It was the neighbors on Royal Street who first began to suspect something was not quite right in the Lalaurie house. There were whispered conversations about how the Lalaurie slaves seemed to come and go quite often. Parlor maids would be replaced with no explanation or the stable boy was suddenly just disappear never to be seen again.
One day a neighbor was climbing her own stairs when she heard a scream and saw Madame Lalaurie chasing her personal servant girl with a whip. She pursued the girl onto the roof of the house where the child jumped to her death. The neighbor later saw the small slave girl buried in a shallow grave beneath the cypress trees in the yard.
A law that prohibited the cruel treatment of slaves was in effect in New Orleans and the authorities who investigated the neighbor's claims impounded the Lalaurie slaves and sold them at auction. Unfortunately for them however, Madame Lalaurie coaxed some relatives into buying them and then selling them back to her in secret.
As rumors of horrible abuse continued to swirl around the Lalauries, their social standing within the Creole society began to wane. Party invitations were declined and dinner invitations were ignored.
Finally, in April of 1834 all of the rumors about Madame Lalaurie were realized as truths.
A terrible fire broke out in the kitchen. It was rumored the cook had set the fire, unable to endure another minute of the torture administered. The blaze was put out, but fire fighters discovered a horrible sight behind a secret barred door in the attic. They found more than a dozen slaves there, chained to the wall in a horrible state. They were both male and female. Some were strapped to makeshift operating tables while some were confined in cages made for dogs. Human body parts were scattered around and heads and human organs were placed haphazardly in buckets. Grisly souvenirs were stacked on shelves and next to them a collection of whips and paddles. It was more horrible that anything created in man's imagination.
According to the newspaper, the New Orleans Bee, all of the victims were naked and the ones not on tables were chained to the wall. Some of the women had their stomachs sliced open and their insides wrapped about their waists. One woman had her mouth stuffed with animal excrement and then her lips were sewn shut. The men were in even more horrible states. Fingernails had been ripped off, eyes poked out, and private parts sliced away. One man hung in shackles with a stick protruding from a hole that had been drilled in the top of his head. It had been used to "stir" his brains.
The tortures had been administered so as to not bring quick death. Mouths had been pinned shut and hands had been sewn to various parts of the body. Regardless, many of them had been dead for quite some time. Others were unconscious and some cried in pain, begging to be killed and put out of their misery.
Fire fighters fled the scene in horror and disgust. It is uncertain just how many slaves were found in Madame Lalaurie's torture chamber but most of them were dead. There were a few who still clung to life, like a woman whose arms and legs had been removed and another who had been forced into a tiny cage with all of her limbs broken than set again at odd angles.
Needless to say the horrifying reports from the Lalaurie house were the most hideous things to ever occur in the city and word soon spread about the atrocities. It was believed that Madame Lalaurie alone was responsible for the horror and that her husband turned a blind, but knowing, eye to her activities. Passionate words swept through New Orleans and a mob gathered outside the house, calling for vengeance and carrying hanging ropes. Suddenly, a carriage roared out of the gates and into the milling crowd. It soon disappeared out of sight.
Madame Lalaurie and her family were never seen again. Rumors circulated as to what became of them. Some said they ran away to France and others claimed they lived in the forest along the north shore of Lake Ponchatrain. Still other rumors claimed the family vanished into one of the small towns near New Orleans, where friends and relatives sheltered them from harm. Could this be true? And if so, could the terrible actions of Madame LaLaurie have "infected" another house in addition to the mansion in the French Quarter?
There is no record of what happened to the LaLauire family and no legal action was ever taken against them. They were never seen in the city of New Orleans again. As for the mansion and it's victims, it would seem that for 180 years neither would be at peace. From 1837 the house would not remain occupied for more than a couple of months at a time, with all residents fleeing in fear of the other 'ghostly' occupants. No matter if it were a single family home or apartments, the LaLaurie mansion couldn't keep living souls within its four walls. Only recently has it been converted into luxury apartments, which for the time being seem to be faring better than past endeavors.
I would like to believe the luxury apartments are faring better as the tortured souls that reside there have since found peace and moved on. Though we may never know for certain.
When Kristi isn't writing for NewzBreaker, she writes supernatural suspense novels having three currently published. If you would like to check out any of her books they can be found online and at other major retailers like Books a Million and Amazon. Never one to rest, she also paints/designs shoes and items for the home. Check out her eBay store, Watered Down Vodka and her FB page.
Comments or questions are welcome.