Loading ...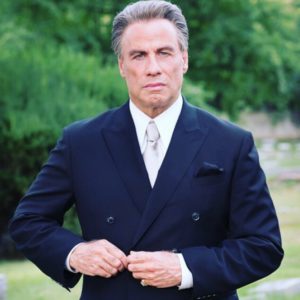 By Joe Liddle
Some of you will know and many of you will not know that John Travolta's latest movie, The Life and Death of John Gotti (previously named Gotti: In the Shadow of My Father) has been in post-production for a considerable few years. Directed by Entourage actor Kevin Connolly, the movie will follow the rise and fall of Gambino crime family boss John Gotti, told from the perspective of his son and protégé, John Gotti, JR.
With the movie being far into post-production, the cast has been assembled. John Travolta's wife, Kelly Preston, will also be playing his wife onscreen, Victoria Gotti. Spencer Rocco Lofranco, known for his role as Harry Brooks in the 2014 movie Unbroken, will  play John Gotti JR. Other cast members include Stacy Keach, known for American History X, who will be playing John Gotti's mentor and close friend, Aniello "Neil" Dellacroce.
The real question is, compared to other true crime movies, like Goodfellas or Donnie Brasco, and other works depicting Gotti's life – will The Life and Death of John Gotti fare well? John Gotti is regarded as one of the most iconic mob figures in American organized crime, so the subject matter is already popular. The 1996 straight-to-video movie Gotti, starring Armand Assante as the man himself, proved to be a huge success among fans of the genre. The fact that it was John Gotti, JR.'s idea to make the movie, and the fact that the story is told from his point of view, could be seen as a positive, much like Henry Hill's telling of Goodfellas. But what happens when bias takes control? Henry Hill has been heckled many times for fabricating certain moments of his life and John Gotti, JR. has also been quizzed on the authenticity of his story.
As far as popularity goes, I for one can say that so far, from what I've seen, The Life and Death of John Gotti is not getting much love at all. The main concern I hear is, and I've seen it many, many times, is that a lot of people just don't believe John Travolta is a good choice for the role of Gotti, more than often comparing him to Armand Assante and Tom Sizemore's portrayals. Personally, I'm a firm believer in reserving judgement until I've seen a movie, which is exactly what I'm going to do.
The movie itself is based on John Gotti, JR's book, Shadow of My Father, authored by Gotti, JR. and forwarded by Peter Lance, so if you want a closer look at what the movie may be like and what it will entail, go ahead and read it. The Life and Death of John Gotti will either make or break, much like any other movie that is considered a remake or a retelling. The movie is said to be released late 2017, but this information has not been truly confirmed thus far. Regardless of the complaints, I and many others are looking forward to it. All I can say is, reserve your judgement until you see the movie.
Comments or questions are welcome.