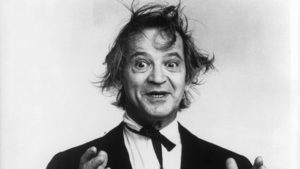 By Kristi O'Toole
Before Dice, Kinison and Clay there was Corey. The comedian had been sick and in the hospital but sent home 'feeling better' just two days before he died Monday evening. His last meal was comprised of ice cream and egg drop soup which somehow seems so fitting for a man with such a surreal brand of comedy.
"Sometimes, I forget what I'm talking about in the middle of a word," Corey said at his 100th birthday party.
Corey mixed social commentary into his playful approach to language. At his birthday party in 2014, he said, "Ten years ago, we had Johnny Cash. We had Bob Hope and Steve Jobs. Today, 10 years later, there's no cash. There's no hope. There's no jobs."
Corey was 102.
NewzBreaker extends our condolences to the Corey Family in their time of grief.
When Kristi isn't writing for NewzBreaker, she writes supernatural suspense novels having three currently published. If you would like to check out any of her books they can be found online and at other major retailers like Books a Million and Amazon. Never one to rest, she also paints/designs shoes and items for the home. Check out her eBay store, Watered Down Vodka and her FB page.
Comments or questions are welcome.