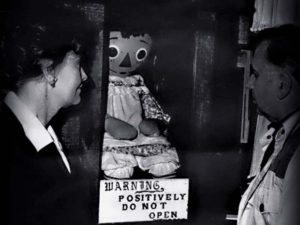 By Kristi O'Toole
For over fifty years, Ed and Lorraine Warren were considered America's preeminent experts on the subject of spirits and demonology. The Warren's had repeatedly been called in to control some of the most profane outbreaks of diabolical phenomena in the country. Cases where even priests become demon possessed. Cases where people are physically attacked. Cases where unworldly entities manifest and then preside. Cases where time is violated and the physical environment is completely rearranged. Cases where spirits don't just haunt a house, they visibly tear it apart.

Whether you're a believer or not, the question arises, 'what sets a person on such as path as demonology?' For the Warren's it was personal experiences in Ed's childhood that prompted him to seek the truth. No matter whether it was disembodied voices or light orbs, Ed's father always reassured his son that there was a logical explanation; but never offered one.
The self proclaimed demonologist and trance medium have made it no secret that they are devout Christians and what they spent their lives doing was purely God's work.
The most famous case of the Warren's involved a doll named , Annabelle. Thanks to Hollywood most all of us are now familiar with Annabelle. The story goes; in 1970, John and Mia Form live in Santa Monica and are expecting their first child. John gives her an expensive antique doll that she has wanted. That night, Mia hears sounds of a struggle as the next door neighbors, the Higgins, are murdered. When Mia calls the police, she is attacked by a man and a woman holding the doll. John and the police arrive and kill the man while the woman kills herself by slitting her own throat. A drop of her blood falls on the face of the doll. A news report identifies the assailants as Annabelle Higgins and her boyfriend. They are described as part of the Disciples of the Ram, a satanic cult that worships a demon with horns.
Since Annabelle was holding the doll while dying, Mia asks John to throw it away. Later during a mysterious fire, she trips over furniture while escaping and goes into labor. Mia gives birth to a healthy baby girl named Leah. The family moves into a new apartment and Mia finds the doll they thought they had discarded. More strange activity plagues Mia and her new baby. She contacts a police detective, who informs her of Annabelle Higgins involvement in the cult and their efforts to summon a demon by claiming a soul.
The couple contacts their priest, Father Perez, who tries to take the doll with him to church. Annabelle's ghost attacks him, and the doll disappears. Perez warns John that it was Annabelle's spirit that caused his injuries. During another attack, the doll appears to levitate, but Mia sees that the demon is manipulating it. Mia attempts to destroy Annabelle but the demon tells her that she can end the doll's influence by sacrificing her soul to him. John and Evelyn break into the room to stop Mia from jumping out the window with Annabelle. Evelyn takes hold of Annabelle. She decides to sacrifice herself to atone for Ruby's death, and jumps out of the window to her death. The doll disappears.
On screen text says that the real Annabelle doll resides in a case in Ed and Lorraine Warren's museum, and that it is blessed by a priest twice a month to keep the public safe from the evil that the doll possesses. The last shot of the film shows the Annabelle doll in the glass case as the camera lingers on it.
Many other famous movies and books surround the Warrens and their long paranormal history, such as The Conjuring, Amityville, The Devil In Connecticut, A Haunting In Connecticut, A Haunting, and Werewolf: The True Story of Demonic Possession was published in which they claim to have exorcised a demon manifesting itself as a "werewolf". (That last one got even me, I mean, what the hell like?)
So where does this leave us? Scared crapless? Probably not.
Now on the flip side where there are believers there are skeptics. While I am of the mind that the belief in the supernatural seems to be a nearly universal part of the human condition, even I can't get on board with the Warren's.
While I believe, the Warren's were genuinely sincere people, none of their 'evidence' stands up to rigorous scientific testing, and most of it not even to cursory testing. None of it. Like all pseudoscience's, the field of ghost hunting makes bold pretense to being legitimate science. Basically, being a paranormal researcher and expert can be hard thing for some folks to take seriously, so for goodness sake don't embellish it to the point of absurdity like some of the Warren's claims. (Werewolves).
As for me and my house, if it goes bump in the night it gets white saged and drowned in holy water, but that's just me. This chick doesn't take any chances. Call me what you will, but none of my stuffed animals are possessed.
The cat, now she's a different story…
When Kristi isn't writing for NewzBreaker, she writes supernatural suspense novels having three currently published. If you would like to check out any of her books they can be found online and at other major retailers like Books a Million and Amazon. Never one to rest, she also paints/designs shoes and items for the home. Check out her eBay store, Watered Down Vodka and her FB page.
Comments or questions are welcome.