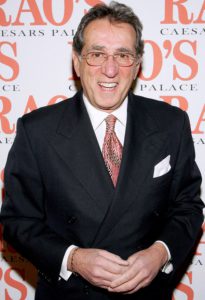 By Kristi O'Toole
The actor was best known for playing FBI Chief Frank Cubitoso on the HBO series from 1999 until 2004. He also starred in 1990's gangster movie Goodfellas as Johnny Dio, and appeared on Law & Order: Criminal Intent in 2002.
Aside from his acting career, Pellegrino was a successful restaurateur. He co owned Rao's, a celebrity loved Italian restaurant first established in 1896 by Pellegrino's great uncle Charles Rao.
NewzBreaker extends our condolences to the Pellegrino Family in their time of grief.
When Kristi isn't writing for NewzBreaker, she writes supernatural suspense novels having three currently published. If you would like to check out any of her books they can be found online and at other major retailers like Books a Million and Amazon. Never one to rest, she also paints/designs shoes and items for the home. Check out her eBay store, Watered Down Vodka and her FB page.
Comments or questions are welcome.