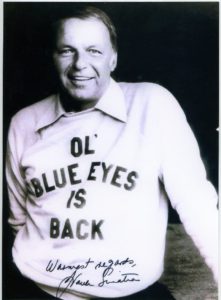 By Jerry Pearce
In a previous installment of this column, "The Sinatra File" took an extended look at the making of one of Frank Sinatra's landmark album releases, "Trilogy." Reaching stores in 1979, the three-record set not only contained some of the finest later product recorded by the legendary singer, but also capped a unique period of studio work that began six years previously with the production and release of two close-knit albums.
In this author's opinion, "You Will Be My Music" is one of the most underrated songs in all of Frank Sinatra's career. Composed by noted songwriter Joe Raposo, the song lyrics hold the distinction of being the first notes sung by the Chairman of the Board to a listening public when Sinatra returned to the public eye after a two-year absence with a NBC television special (Magnavox Presents Frank Sinatra) in November 1973.
Entering a darkened stage to the sound of an orchestral fanfare and mounting applause from an elegantly dressed audience, the performance signaled his "comeback" to the entertainment medium following his self-imposed 1971 retirement and a period of longing for the admiring audiences that sustained him.
Not only did the Raposo composition represent the first time audiences were again seeing Sinatra performing, it was also the first Sinatra song ardent listeners were privileged to hear just a month earlier when Sinatra's newest album was released in October. His first album of relatively new material since 1971 (if "Sinatra & Company is to be counted), "Ol' Blue Eyes Is Back," the title lifted from the gift of a sweater bearing the words to Sinatra from an exuberant fan, is a noteworthy, if not extraordinary, addition to the Sinatra discography.
Produced by Don Costa, who was fast becoming a primary to Sinatra, with arrangements by Gordon Jenkins, the nine-song album crafts a portrait of a singer still trying to find himself in a rapidly changing musical climate, with ballads and lush strings among the chief components, assembled from the recent talents of songwriters like Raposo (with four of the nine songs credited), Paul Anka, Teddy Randazzo, Kris Kristofferson, Stephen Sondheim, and Paul Williams.
Three of the nine tunes are memorable in the Sinatra canon. "You Will Be My Music" would remain a Sinatra concert staple for many years. Although originally written as a song protesting the dark direction American music was taking when Raposo composed the piece, the lyrics would echo an air of poignancy between Sinatra and his fans during concert performances later in his career. Like "My Way," the words became autobiographical. In essence, when all would go wrong, his audience and the bond they shared would be HIS music. Indeed, the adoration of his fans is today considered one of the sole things that inspired Sinatra to go on performing for so long.
"Send In The Clowns" was a wonderful piece of music from the Stephen Sondheim musical "A Little Night Music," and one that Sinatra would sink his teeth into more than once. Given prime placement on the accompanying television special, it too would remain a concert staple for years in various forms. Telling the story of the end of a relationship, Sinatra was one of many vocalists to cover the showtune in that era, but also considered perhaps the best interpretation. The full orchestral version by Jenkins would be joined a few years later when Sinatra decided to re-record the song, this time alone in studio with Bill Miller at the piano, adding (what was an unusual to a Sinatra recording) a spoken introduction explaining the lyrics while communicating his admiration for the piece.
"Let Me Try Again" is perhaps the finest song, after "My Way," that Paul Anka wrote for Sinatra, and at one point, the phrase was even a contender for the album title before "Ol' Blue Eyes Is Back" was chosen. Although Sinatra's vocal chops were beginning to diminish at this point in the 1970s, the singer gives his audience all he can over as he pulls dramatic vocal punches whilst reading the lyrics of a man desperate for love to give him just once more chance. Dropping the key slightly, it too was performed on the television special. Sinatra later took the arrangement on the road with him for the "Main Event" tour in 1974, and in 1975, Sinatra would poke fun at the lyrics itself when the song was re-cast from a ballad to a swinger via an arrangement by Don Costa. "Paul Anka is gonna cry when he hears this!" he was heard saying when introducing the new version of the song at one performance, all in good fun.
With an eager public happy to see their favorite singer at work once again and a large publicity campaign ensuring that everyone would know the Chairman had returned, sales for the new album were highly respectable, with the record attaining Gold status and prominent spots just below the top ten on album charts. Bolstered, Sinatra set about putting together another album for the following year.
Originally, Sinatra looked to return to his love for the concept album, setting a program of songs around a certain theme, in the present case, saloon songs. Although recordings for a few songs were laid down, among them, an arrangement of "Bang Bang, My Baby Shot Me Down" as well as Johnny Mercer's "Empty Tables," the saloon concept would eventually be shelved for a further number of years. Sinatra would never forget that project, and eventually brought it to life in 1981 with the release of "She Shot Me Down," named after the "Bang Bang" number he favored so much.
Instead, Sinatra turned to the contemporary again, intent on catching up with the years and songs that got past him while on brief retirement, assembling a collection of songs that included the writing talents of Neil Diamond, Michel Legrand, Stevie Wonder, David Gates, and Jim Croce. Released in 1974, "Some Nice Things I've Missed" was a self-explanatory title, and today, it remains a title that some fans have grown to love, some fans completely ignore, and one that leaves some fans and critics scratching their heads.
Featuring arrangements by both Don Costa and Gordon Jenkins, the collection's shift in tone and quality ranges from the beautiful to the dreadful. The album opens with the wistful "You Turned My World Around," a nice ballad that features Sinatra once again displaying some impressive range for his fifty-eight year old baritone.
Then things take a turn. It's hard to imagine such an easy-going tune like Neil Diamond's "Sweet Caroline" recast as a big bang swinger, but Don Costa and Frank make it happen here. It was a tune, along with the later addition of Jim Croce's "Bad, Bad Leroy Brown," that left many a Sinatra fan groaning, even to this day. While there are some who say that Costa was a virtual ace at banging out jazz-flavored charts, some of the same people state that there were certain songs that should've been left alone.
At the least, there were some other bright moments. Sinatra turns in masterful readings of "The Summer Knows" and "What Are You Doing The Rest Of Your Life," two dramatic arrangements that well utilize the strings, and swinging renditions of "Tie A Yellow Ribbon" and Floyd Huddleston's sexually suggestive "Satisfy Me One More Time." Sinatra sounds as though he's having the most fun on these tunes, and to some Sinatra fans, sounds like he's having fun with the entire album, with several little quips and riffs (audible the most on "Satisfy") from the singer along the way.
Sinatra scored the most mileage from two later charts on the album, ones that would exist in concert performances long after this album was forgotten. First, his performance of the David Gates song "If." While the Don Costa arrangement from the album is best known, there was an also an alternate arrangement for guitar and orchestra that Sinatra would perform as a feature duet with longtime sideman Al Viola. Proof once again that, given the correct treatment, Sinatra could make a recent tune all his own.
Second, Don Costa's arrangement of Stevie Wonder's "You Are The Sunshine Of My Life," a slam bang chart that Sinatra would perform through the 1980s. Interestingly enough, two charts were recorded of the same song for this album, one by Costa and one by Nelson Riddle. Although Costa's was chosen for the album, Riddle's version, taking at a tempo lighter than the Costa version, was featured in live performances in the mid-1970s, captured on audio during Sinatra's Jerusalem concert in 1975.
One other song chosen but never recorded for the album was a Don Costa arrangement of Gordon Lightfoot's "If You Could Read My Mind." With the tender workings Costa's arrangement of "If" in mind, it would have been an experience to see where the singer would have taken his cover version of that tune.
Unkind critics and mediocre record sales would put an end to that speculation of what Sinatra could do with contemporary tunes. "Some Nice Things I've Missed" was released in July of '74 and would help, besides a handful of singles, to ground Sinatra's recording career to a halt for the remainder of the 1970s.
Though his record sales would dry up for a time, Sinatra didn't have much to worry about. The Chairman of The Board was back. At the time of the "Some Nice Things" release, Sinatra was gearing up for the "Main Event" tour that coming October. The following year, he would break records with both Count Basie and Ella Fitzgerald during a two week run in New York, not to mention a series of concert appearances from New York broadcast on the Jerry Lewis Telethon. The following few years would see the singer crossing the globe, capping the 1970s with the release of "Trilogy," his concert set before the Pyramids in Egypt and beginning the new decade with a record setting concert attendance of 180,000 people to celebrate the 30th anniversary of Maracana Stadium in Rio de Janiero, Brazil, in January 1980.
It was safe to say that, despite whatever shortcomings some critics and fans thought Sinatra exhibited in the recording studio, he would remain a dominant and enduring force in the field of world class entertainment.
No doubt about that…
Until next time, Sinatra lovers!
Jerry Pearce is an amateur singer in the vein of Frank Sinatra, Perry Como, and Dick Haymes and has released two discs of standards music, Crossroads in 2010, and One Summer Night in 2016. Samples of his music can be heard on his YouTube Channel. To purchase his CDs use the form box below.
Comments or questions are welcome.