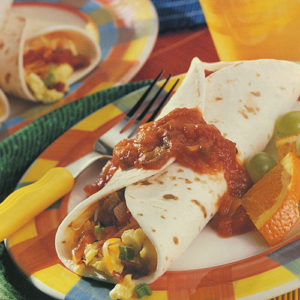 By Kristi O'Toole
Ingredients:
• 2 ounces Co-Jack cheese, shredded (1/2 cup)
• 1 green onion with top
• 4 (6-7 inch) flour tortillas
• 4 eggs
• 1/8 teaspoon salt
• 1 teaspoon butter or margarine
• 1 tablespoon real bacon bits
• 1/4 cup thick and chunky salsa
Directions:
1. Preheat oven to 275°F. Shred Co-Jack cheese using Rotary Grater and set aside.
2. On Cutting Board, cut root end off green onion. Thinly slice Quikut Paring Knife and set aside.
3. Lightly spray tortillas with water using Kitchen Spritzer. Place in Mini-Baker and cover with Mini-Baking Bowl.
4. Place Mini-Baker in oven to warm tortillas, about 10 minutes. Using Oven Mitts, remove Mini-Baker to Stackable Cooling Rack.
5. Meanwhile, crack eggs into Small Batter Bowl. Add milk, salt and pepper. Mix with Stainless Whisk.
6. In (8-in.) Sauté Pan, melt butter over medium heat until it starts to bubble. Add egg mixture to pan. Let cook 1 minute without stirring. Stir with Classic Scraper. Continue cooking 3-4 minutes until eggs are firm but still moist, stirring occasionally. Stir in bacon bits as eggs begin to set. Remove pan from heat.
7. For each burrito, spoon about 1/3 cup of the scrambled egg mixture down the center of 1 tortilla. Top with 2 tablespoons of shredded cheese, a few green onion slices and 1 tablespoon salsa. Fold sides of tortilla over eggs. Serve with extra salsa, if desired.
Kristi stays busy with her writing, shoe designing and Pampered Chef business so she knows how precious time can be; she also knows how important eating healthy and showing your children life beyond fast food can be. The Pampered Chefs Happy Families segment is designed with busy lives in mind. The recipes presented will be fast, easy and affordable to everyone. The tools you need to complete these meals can be found on her personal website.
Comments or questions are welcome.