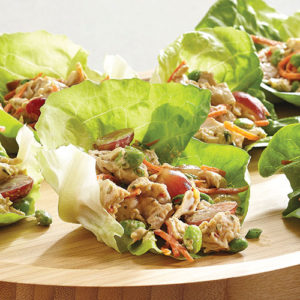 By Kristi O'Toole
Ingredients:
1 lb (450 g) chicken tenders
• ¼ tsp (1 mL) each salt and black pepper
• 2 green onions
• 1 medium carrot, peeled
• 1 cup (250 mL) red seedless grapes
• ½ cup (125 mL) light mayonnaise
• 1 tbsp (15 mL) low-sodium soy sauce
• 1 tbsp (15 mL) Asian Seasoning Mix
• ½ cup (125 mL) frozen shelled edamame, thawed
• 12 medium or large Bibb lettuce leaves, washed and patted dry
• ¼ cup (50 mL) slivered almonds, toasted (optional)
Directions:
Arrange the chicken in the Small Ridged Baker; season with the salt and pepper. Cover with the paper towel and microwave on HIGH 5-6 minutes or until juices run clear and the internal temperature reaches 165°F (74°C). Remove the chicken from the baker to the (4-qt./4-L) Stainless Mixing Bowl; let cool in the freezer.
Thinly slice the green onions and set aside. Using the Julienne Peeler, cut the carrot into long strips. Cut the strips into small pieces. Place all of the grapes in the Close & Cut. Using the Coated Chef's Knife, cut the grapes in half (see Cook's Tips).
For the dressing, in a (2-cup/500-mL) Prep Bowl, whisk the mayonnaise, soy sauce and rub with the Stainless Steel Mini Whisk.
Remove the chicken from the freezer and chop it into small pieces with the Salad Chopper. Add the green onions, carrot, grapes, edamame, and dressing to the mixing bowl. Mix until combined with a Small Mix 'N Scraper®.
Arrange the lettuce leaves on a serving platter. Using a heaping Large Scoop, place the chicken salad evenly onto the lettuce leaves. Sprinkle with almonds, if desired.
Kristi stays busy with her writing, shoe designing and Pampered Chef business so she knows how precious time can be; she also knows how important eating healthy and showing your children life beyond fast food can be. The Pampered Chefs Happy Families segment is designed with busy lives in mind. The recipes presented will be fast, easy and affordable to everyone. The tools you need to complete these meals can be found on her personal website.
Comments or questions are welcome.