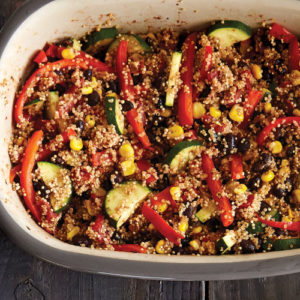 By Kristi O'Toole
This healthy, gluten-free and Vegan recipe is a one pot wonder that comes together in a snap!
Ingredients:
• 1 cup (250 mL) uncooked quinoa
• 1 cup (250 mL) vegetable broth
• 1 orange or red bell pepper, stem removed, seeded
• 1 medium zucchini, ends trimmed and cut into 3" (7.5-cm) pieces
• 1 cup (250 mL) fresh corn kernels (about 2 ears)
• 2 garlic cloves
• 1 can (15 oz/425 g) low-sodium black beans, drained and rinsed
• 1 can (14.5 oz/411 g) fire-roasted diced tomatoes, undrained
• 1-2 tbsp (15-30 mL) Tex-Mex Rub
• ¼ cup (50 mL) fresh cilantro leaves
• Diced avocado, sour cream and lime wedges (optional)
Directions:
1. Combine the quinoa and broth in the Deep Covered Baker. Cover and microwave on HIGH for 10 minutes.
2. Meanwhile, cut the bell pepper into quarters and the zucchini in half lengthwise. Using the Quick Slice, cut the bell pepper (skin-side up) into strips. Slice the zucchini halves crosswise.
3. Remove the baker from the microwave. Stir in the vegetables, garlic pressed with the Garlic Press, beans, tomatoes with juice, and rub.
4. Microwave, covered, for 8–10 minutes, or until the quinoa has absorbed the liquid.
5. Remove the baker from the microwave and let it stand, covered, for 5 minutes.
6. Snip cilantro in a small bowl with the Professional Shears.
7. To serve, sprinkle the quinoa with cilantro and top each serving with avocado and sour cream, if desired.
Kristi stays busy with her writing, shoe designing and Pampered Chef business so she knows how precious time can be; she also knows how important eating healthy and showing your children life beyond fast food can be. The Pampered Chefs Happy Families segment is designed with busy lives in mind. The recipes presented will be fast, easy and affordable to everyone. The tools you need to complete these meals can be found on her personal website.
Comments or questions are welcome.