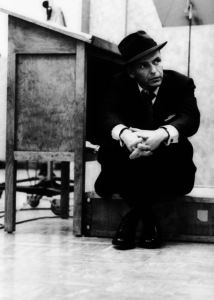 By Jerry Pearce
Well folks, we're coming up on the New Year, and I must say, I've been proud, honored and privileged to drop in here every once in a while with some historical facts about our favorite singer. As I've stated over the last nine months or so that this column has been in existence, there would be nothing new here to learn for a die-hard Sinatra fanatic, but the overall response to my writings has been rewarding and positive from all facets of the Sinatra fan spectrum, and it has been graciously appreciated. To close out this tumultuous year of 2016, we turn once again to the expansive song catalog of Francis Albert Sinatra, a collection of studio recordings that extends across three record labels and numbers somewhere in the low to mid thousands.
From his early recordings at the birth of his solo career at Columbia Records to his final attempts at vocalizing in the waning days of his self-founded Reprise, Sinatra was always experimenting. New songs, fresh young songwriters, orchestral ensembles of various degrees and sizes, not to mention a flux of arrangers and musical personalities that, through their work and effort, always helped Sinatra refine and craft his distinctive sound. Along the way, there was a bevy of reinvention as well. Perhaps the most prime way to hear Sinatra changing his style of vocalizing over the years can be through listening to him sing the same song more than once.
Indeed, while the singer was always taking on new compositions ferried to him, there were instances during the course of his career where he would record an old song over again. Through this, not only did you get to hear the singer approach a song differently, but you were also able to hear how that particular style of music was changing, in some cases over the course of only a few years.
For example, we look at the standard "Night and Day," written by Cole Porter. Sinatra recorded the song in studio no less than five times between the Columbia days of the 1940s and the contemporary-tinged era of Reprise in the late 1970s, and it's safe to say that the Sinatra of an era in which he took direction from figures like Manie Sachs and Mitch Miller sounded nothing like the Sinatra who was calling the shots at his own label some thirty years later.
To quote more than one person, when you make a side by side comparison any two recordings of the same song by Sinatra, you tend to hear the defiance of a man come out of a former boy singer.
The saccharine of his romantic early days where he seemed to pine over a woman in lyrics is overtaken by the fellow who knows what he wants and is going after it, headstrong.
While there are many instances of Sinatra re-recording tunes over the course of his sixty plus years behind the microphone, below are five prime examples as to how Sinatra sounded better as he got older, even when singing the same old standard over again.
I've Got You Under My Skin
We'll have to start with one of the biggest of them all, as Sinatra often called it in concert, the finest hour of both writer Cole Porter and arranger Nelson Riddle. Originally appearing on Sinatra's landmark 1956 album "Songs For Swingin' Lovers," Sinatra's first stab at the song, featuring a memorable trombone solo by veteran Milt Bernhardt, is considered by many to be the standout track on that album, and along with the following year's release of "A Swingin' Affair," also with Riddle, the high point of Sinatra's time with Hollywood's Capitol Records. Years later in 1963, having left Capitol to form his own Reprise Records, Sinatra decided to re-record the arrangement with Riddle as the opening track of the new collection "Sinatra's Sinatra," in which he tackled twelve songs he enjoyed the most from the entirety of his career at that point. In this author's opinion, the re-record is the more exciting of the studio readings, with the band taking the tempo of the song an inch faster than the Capitol predecessor, and both Sinatra and band displaying a bit more bite and edge in both vocal and instrumentation. While the later recording lacks the masterful trombone solo that made the original so special, the idea of the boy singer reaching full maturity is featured here in its prime.
I Get A Kick Out Of You
Arranged for him by George Siravo and featured on his debut with Capitol Records, the Riddle-credited "Songs For Young Lovers," Sinatra's "story that's much to sad to be told" was yet another song that would be requested and performed throughout the bulk of his career. While the original 1953 version features the opening verse and a lightly swinging arrangement for a small ensemble, Frank's re-recording of the tune which would follow in 1962 on his album "Sinatra and Swingin' Brass" features one of the tightest, jazziest arrangements ever written for him in his career, this time by "Odd Couple"-theme writer Neal Hefti. Discarding the verse and jumping right into not getting any kicks from champagne, Sinatra and company swing hard. While Sinatra performed the original Riddle arrangement throughout the 1950s and early 1960s (most prevalent during his 1962 World Tour with jazz sextet), Hefti's arrangement would dominate concert performances from the 1970s onwards, although Sinatra would open the song with the beginning verse a la his original reading of the tune.
You Brought A New Kind Of Love To Me
Another of those tunes that began at Capitol with "Songs For Swingin' Lovers" in 1956, Nelson Riddle was the first arranger to take a crack at this playfully delightful song written by Sammy Fain, Irving Kahal, and Pierre Norman. Beginning with some sultry saxophones accented by muted brass in the background, Sinatra's first reading of the tune highlights his lightly swingin' yet ultimately seductive side. It's gentle, something that is hardly the case when we look at his 1965 re-recording of the tune for Reprise featuring a slam-bang chart written by Neal Hefti and appearing on the Sinatra singles-compilation album "Sinatra '65." This time, wild brass marks the opening of the tune, Sinatra sounding hardly seductive here singing the song one full key above the original, swingin' and exuberant as the brass section soars across the bridge to the wailing end. Some might get the feeling they're listening to two different songs when played back to back, and in a way they are.
A Foggy Day
Another tune that harkens back to his earliest moments with Capitol Records on the debut release of "Songs For Young Lovers" with Nelson Riddle, his first 1953 recording of the tune features an intimate Sinatra singing the beautiful opening verse before gently swinging his way into the mouth of the tune with a small backing, as heard on the similar "I Get A Kick Out Of You." With seven years passing and the birth of hep cat, "Pal Joey" era of Sinatra occurring in between, all the bells and whistles were pulled out, literally, when Sinatra decided to re-record the song for the debut release of his Reprise Records, the amazing "Ring-A-Ding-Ding!" in 1960. With a bright, driving chart written by the great Johnny Mandel, you'll understand what all the finger snapping was about when you listen to Frank's new take on the tune, with the sleepy town of London literally coming to life around Frank as the brass soars and bells clang aloud, halting only when Frank takes it down a bit to let everyone know that "the sun was shining…everywhere!"
Love Is The Tender Trap
Recorded as the title tune for his mid-1950s cinematic outing with the beautiful (and recently deceased) Debbie Reynolds, the film "The Tender Trap," this Sammy Cahn composition was once again first charted by Nelson Riddle (this seems to be a recurring motif in this article, and while I tend to enjoy the second recordings more then the first, this is in no way a slight on the amazing Nelson Riddle) in a dynamic arrangement that Sinatra uses to full advantage, showing off his slick cavalier side as he sings to the arrangement over the film's opening credits. It was later released as a single, and included on the Capitol single compilation LP "This Is Sinatra!" released during the mid 1950s. Sinatra's re-recording of the tune, which would follow at Reprise in 1962, saw him going head to head with the Count Basie Orchestra in the first of their two studio jaunts. Armed with a chart once again by the great Hefti, this version lacks a bridge, Sinatra running through the song only once, but featuring a delectable intro that makes the most of Basie's signature brass and reeds section, with several wailing stabs throughout the chart. Once again, while Sinatra sounds a bit wistful the first time around, he's utterly and excitingly forceful when he comes around for seconds.
Check out the recordings and hopefully, you'll see what I mean. Happy New Year, folks! Join me for more Sinatraesque trivia as we venture into 2017.
Until next year, Sinatra lovers!
Jerry Pearce is an amateur singer in the vein of Frank Sinatra, Perry Como, and Dick Haymes and has released two discs of standards music, Crossroads in 2010, and One Summer Night in 2016. Samples of his music can be heard on his YouTube Channel. To purchase his CDs use the form box below.
Comments or questions are welcome.