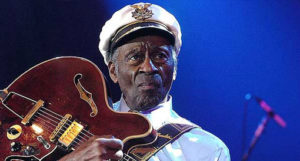 By Kristi O'Toole
With a big middle finger to 2016, the rock'n'roll legend chooses his 90th birthday to announce that he is releasing a new album next year, titled Chuck
Roll over Frank Ocean and tell Beyoncé the news. Chuck Berry proved that the surprise album announcement is not solely the preserve of young artists when he announced the release of his first album in 38 years.
Details of the record were scanty, but a statement said that it would consist mainly of new material written and produced by Berry. It was recorded in St Louis, the musician's hometown.
Berry dedicated the album to his wife of 58 years, Thelmetta, implying that it would be his last. "This record is dedicated to my beloved Toddy," the singer said in his statement. "My darlin' I'm growing old! I've worked on this record for a long time. Now I can hang up my shoes!"
When Kristi isn't writing for NewzBreaker, she writes supernatural suspense novels having three currently published. If you would like to check out any of her books they can be found online and at other major retailers like Books a Million and Amazon. Never one to rest, she also paints/designs shoes and items for the home. Check out her eBay store, Watered Down Vodka and her FB page.
Comments or questions are welcome.