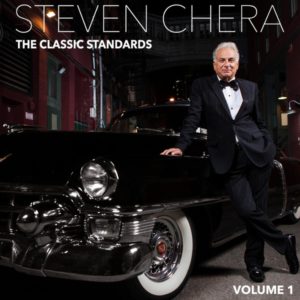 By Jerry Pearce
In the world of performing standards, it seems like there are only two ways to go when bringing a musical program to the public: utter grandeur or lush simplicity. Over the course of one week, I witnessed examples of both ends of the spectrum: utter grandeur in the form of the Red Bank (New Jersey) Jazz Orchestra performing Sinatra standards with a talented cast of singers and instrumentalists at the Count Basie Theatre's annual Sinatra Birthday Bash, and lush simplicity across the river in New York City in the form of the intimate Metropolitan Room jazz club and the exciting vocals of singer Steven Chera.
Celebrating the debut of his newest album "The Classic Standards, Volume One," the intimate New York City played host to Chera's album release celebration, and the teeming venue, which seats less than one hundred and twenty, was filled well to capacity.
My beautiful date and myself were seated less than a few seats from the stage, and for a little over and hour, Chera entertained us with his unique style of singing chestnuts from that wonderful musical maelstrom known as The Great American Songbook.
Resplendent in tuxedo, Chera mixed vocals with short stories of how he came to love music, in essence, the standards we all here at NewzBreaker enjoy, as well as his particular admiration for singers like Frank Sinatra and Elvis Presley, two vocalists he would pay tribute to in the form of songs ("Love Me Tender" for Elvis, and a medley of Sinatra hits ("Fly Me To The Moon," "I've Got The World On A String") in honor of the latter singer's upcoming 101st Birthday.
Chera is an interesting character behind the microphone. Silver haired and quick with a smile, especially when singing to his audience, two actors came to mind when I was thinking of who he reminded me of: Tony Curtis and Robert Conrad. His vocals, however, don't compare to anyone. Hardly an impersonator, he approaches the songs with a relaxed ease in which his vocals fall perfectly into place in a unique, almost hip way. Along with the paced, rhythmic arrangements, don't be surprised if you're tapping your foot or snapping your fingers along to the rhythm shortly after the downbeat.
One of the highlights of the performance came when Chera decided to invite a young singer in the audience onto the stage for an impromptu duet: his granddaughter Jacqueline. Together they traded lines on the Sammy Cahn song "Day In, Day Out" to the delight and approval of the audience; the roof of the Metropolitan was raised by the volume of the applause. It was refreshing to see them bringing and old standard back to life. The young lady was just about pitch perfect; I hope Chera follows through with his plans to take her on the road with him sometime.
Then of course, there's the new album, a complimentary copy of which was waiting for me when I sat down for the show. Lush simplicity comes into play once again; like his live performance, Chera pays tribute to his favorite songs and their writers without overstating. The feeling is in the air as you advance through the album: this is a guy who loves this music. Chera is backed by the same trio that accompanied him at the Metropolitan Room, a neat group of musicians that includes pianist Bobby Kaye, to myself a legend on the New York music scene, as well as some fine licks from bassist Lewis Scott and the rhythmic kicks of Ed Caccavale on the drums.
Like Chera's live work, the arrangements are exciting and tight, simple and to the point. Starting off with a sweet bass line by Scott, Chera swings into form with the opening of "Day In, Day Out," and proceeds through highlights of the American Songbook, including "I Can't Give You Anything But Love," "I've Got A Crush On You," a wonderful latin-esque version of "Where Or When," "Almost Like Being In Love," as well as two tunes that, in my opinion, aren't performed as much in public as they should be, "I'm Glad There Is You" and "You'll Never Know." My copy of the disc went into my car player the day after seeing his concert and I've been returning to it often since.
Chera is covered quite well on all facets of social media, including Facebook, Instagram, and Twitter, not to mention his personal website, www.stevenchera.com. His album is available for purchase there, as well as a few previously released titles, with links taking you to purchase sites at Spotify, Amazon, CDBaby, not to mention digital exclusives on that good ol' media juggernaut, iTunes.
Be on the lookout for Chera's upcoming concert appearances in the New York City area; given the turnout and response to the show I was privileged to watch, his next moments behind the microphone will be coming undoubtedly soon.
Needless to say, this swingin' cat comes highly recommended. Listen now! 5/5.
Until next time, music lovers!
Jerry Pearce is an amateur singer in the vein of Frank Sinatra, Perry Como, and Dick Haymes and has released two discs of standards music, Crossroads in 2010, and One Summer Night in 2016. Samples of his music can be heard on his YouTube Channel. To purchase his CDs use the form box below.
Comments or questions are welcome.