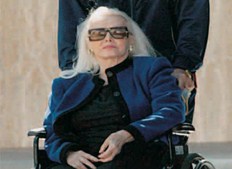 By Kristi O'Toole
Just shy of 100 years old, Gabor died Sunday after suffering a heart attack. She was rushed to the hospital where she was pronounced dead.
Zsa Zsa endured a number of health problems in the last several years. Her right leg had to be partially amputated in 2011 after it got infected. Her husband, Frederic Prinz Von Anhalt, held birthday parties for Gabor the last few years, but she was so sick visitors were not allowed in her bedroom.
NewzBreaker extends our condolences to the Gabor Family in their time of grief.
When Kristi isn't writing for NewzBreaker, she writes supernatural suspense novels having three currently published. If you would like to check out any of her books they can be found online and at other major retailers like Books a Million and Amazon. Never one to rest, she also paints/designs shoes and items for the home. Check out her eBay store, Watered Down Vodka and her FB page.
Comments or questions are welcome.