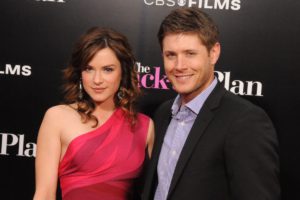 By Kristi O'Toole
The Ackles-Harris family just grew by two!
Jensen Ackles shared on Instagram Saturday that he and wife Danneel Harris welcomed twins a day ago. The little boy and girl, named Zeppelin Bram and Arrow Rhodes join their 3-year-old big sister Justice Jay in completing the CW super fam.
The Supernatural actor captioned a photo of Dr. Seuss characters Thing 1 and Thing 2, "Danneel, JJ and I are excited to announce the birth of our twins Zeppelin Bram and Arrow Rhodes. They were born early yesterday morning. Everyone is doing great! #twinning"
When Kristi isn't writing for NewzBreaker, she writes supernatural suspense novels having three currently published. If you would like to check out any of her books they can be found online and at other major retailers like Books a Million and Amazon. Never one to rest, she also paints/designs shoes and items for the home. Check out her eBay store, Watered Down Vodka and her FB page.
Comments or questions are welcome.