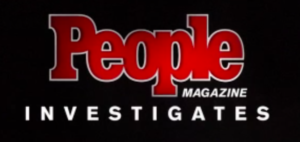 Investigation Discovery's hit series, PEOPLE MAGAZINE INVESTIGATES takes viewers to the heart of the most controversial crimes as each hour-long episode focuses on stories ripped from the headlines, featuring archival footage, recreations, and interviews with key players in the investigations. From the Long Island Serial Killer case where new updates have been uncovered exclusively by People reporters; and the "Grim Sleeper," where one of People's journalists worked the case from the beginning, interviewing victims and families and connecting the killings that were occurring in Los Angeles; to the JonBenet murder mystery as it unfolds making headlines now approaching its 20th anniversary and the infamous MacDonald Family murders and more, People's own trusted journalists seek to divulge new facts while revealing the shocking twists and unexpected resolutions that occurred while they were investigating each emotionally riveting case.
CABIN 28: HORROR IN THE WOODS – Premieres Monday, November 28 at 10/9c on ID
Sheila Sharp was only 14-years-old on April 11, 1981 when she walked into her family's cabin after a sleepover and found the bound and mutilated bodies of her mother, Sue, 36, her brother, John, 15 and his friend Dana Wingate, 17. All had been fatally stabbed, beaten and strangled. Three years later, the body of Sheila's missing 12-year-old sister was found. The horrific murder haunted the small community of Plumas County for years. Underneath the rural charm of the woodsy community was a vast list of suspects and illicit activity that stopped any headway from happening in the case. However, the discovery of some brand new evidence in the case along with technological developments have invigorated new life into this tragic case. After 35 years, could law enforcement finally get some answers in this grisly mass murder?
With exclusive interviews, new facts and emotional firsthand accounts by those closest to the investigation, PEOPLE MAGAZINE INVESTIGATES presents the remaining stories in this season:
HOLLYWOOD HORROR STORY – Premieres Monday, December 5 at 10/9c on ID
It's a normal bright sunny day in the Hollywood Hills of Los Angeles, until two women walking their dogs discover a severed head. The remains are identified as belonging to Hervey Medellin, a 66-year old retired flight clerk and art collector. When police investigate his life, they find links to suspects ranging from former lovers to drug cartels and a murderous porn star. In true L.A. style, the case becomes a movie-worthy mystery as detectives unravel the Case of the Hollywood Head.
IN THE NAME OF LOVE – Premieres Monday, December 12 at 10/9c on ID
In 1995, 16-year-old Adrianne Jones is found shot to death in Grand Prairie, Texas. A model student and athlete, there seems to be no reason for her death. Police investigate boyfriends, neighbors and local troublemakers, but don't have any strong suspects. The case grows cold, until nine months later when a game of Truth-or-Dare leads to a startling confession and an over-achieving relationship that went murderously awry.
JONBENET: THE UNTOLD TRUTH – Premieres Monday, December 19 at 10/9c on ID
In one of the most famous unsolved cases in recent memory, six-year-old beauty queen JonBenet Ramsey of Boulder, Colorado is first reported kidnapped, only for her dead body to be found in her home hours later by her father. Amid allegations of political interference and police mismanagement, investigators attempt to find out if JonBenet was killed by an intruder or by someone in her own family.
THE GRIM SLEEPER – Premieres Monday, December 26 at 10/9c on ID
In 1988, a woman named Enietra Washington is shot and assaulted by a mysterious driver in South Central Los Angeles. She thinks it's a random attack in a crime-ridden neighborhood, but little did she realize she escaped from a serial killer. The killer murders at least seven women during the 1980s before disappearing off the radar, only to re-emerge with another round of killings in the 2000s, earning him the moniker, "The Grim Sleeper." After decades of investigation, police finally think they have the killer. But to prove their case, they must mount an undercover operation to collect DNA evidence, which leads to a shocking discovery.
THE DARKEST OF NIGHTS – Premieres Monday, January 2 at 10/9c on ID
Craig, Alaska is a tight-knit island town where everyone knows everyone. But on a cold February day in 2004, Lauri Waterman — a devoted mother, wife, churchgoer and special education aide — goes missing. When police discover her remains in a burned out van the next day, people realize no one truly knows their neighbors. Who could be responsible for this heinous crime? Lauri's husband Doc and her daughter Rachelle don't have a clue. Police have no leads until they question a former boyfriend of Rachelle who claims he knows who killed Lauri, and whose story exposes the dark secrets of a small town.
THE ACCUSED – Premieres Monday, January 9 at 10/9c on ID
In 1970, Jeffrey MacDonald, a Green Beret surgeon stationed at Fort Bragg, is the only survivor of a brutal home invasion that claims the lives of his wife and two young daughters. But authorities doubt his story of Charles Manson-inspired hippies and believe MacDonald is the true culprit. This is just the beginning of a nearly fifty year battle, full of twists and turns, between investigators determined to keep MacDonald behind bars, and a man determined to prove his innocence.