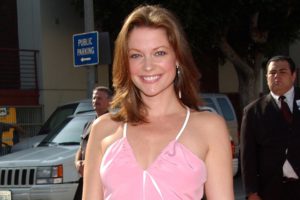 By Kristi O'Toole
Tragic news this week out of Hollywood:
Lisa Lynn Masters, a veteran actress who appeared on such shows as Unbreakable Kimmy Schmidt and Gossip Girl, was found dead inside her hotel room in Peru. She was 52 years old.
Her body was discovered in a closet and it is believed she hanged herself with her skirt. Officials are on record as saying Masters had been struggling with depression and that they found anti-depressants in her hotel room.
Along with the aforementioned hits programs, Masters also appeared on Law & Order: Special Victims Unit and Ugly Betty.
In a statement, a representative for Masters said the following:
"As to her husband and family's wishes, we hope the industry can mourn her death without details.
"In these darkening days, we hope those who have had the pleasure of knowing her will see how brightly she shined and will find that light within themselves and continue to share it with others – just as she would have."
NewzBreaker extends our condolences to the Masters Family in their time of grief.
When Kristi isn't writing for NewzBreaker, she writes supernatural suspense novels having three currently published. If you would like to check out any of her books they can be found online and at other major retailers like Books a Million and Amazon. Never one to rest, she also paints/designs shoes and items for the home. Check out her eBay store, Watered Down Vodka and her FB page.
Comments or questions are welcome.