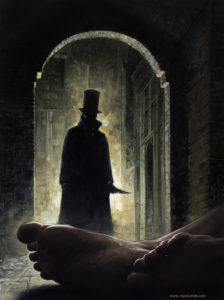 By Kristi O'Toole
A person doesn't have to be a serial killer enthusiast to know the name, Jack the Ripper. Though the heinous murders associated with this killer took place 128 years ago, the name has been far from forgotten.
Perhaps it's the era in which these murders happened. When you think of the 1880's gentlemen of sophistication come to mind, not human butchers. But that's exactly what 'Jack' was.
The anatomy of the murders is particularly brutal. The victims, all women and mostly prostitutes had their throats slit before abdominal mutilation. The removal of internal organs from at least three of the victims led to proposals that their killer had some anatomical or surgical knowledge. Or perhaps just very familiar with the female body.
Fears escalated when letters were received by media outlets and Scotland Yard from a writer or writers purporting to be the murderer. The "From Hell" letter received by George Lusk of the Whitechapel Vigilance Committee included half of a preserved human kidney, purportedly taken from one of the victims. The public came increasingly to believe in a single serial killer known as "Jack the Ripper", mainly because of the extraordinarily brutal character of the murders, and because of media treatment of the events. It seems media could control the mind of the people even then.
A police investigation into a series of eleven brutal killings in Whitechapel up to 1891 was unable to connect all the killings conclusively to the murders of 1888. Five victims—Mary Ann Nichols, Annie Chapman, Elizabeth Stride, Catherine Eddowes, and Mary Jane Kelly—are known as the "canonical five" and their murders between 31 August and 9 November 1888 are often considered the most likely to be linked. The murders were never solved, and the legends surrounding them became a combination of genuine historical research, folklore, and pseudohistory. The term "ripperology" was coined to describe the study and analysis of the Ripper cases. There are now over one hundred theories about the Ripper's identity, and the murders have inspired many works of fiction.
The first two cases in the Whitechapel murders file, those of Emma Elizabeth Smith and Martha Tabram, are not included in the canonical five, nor believed to be the work of Jack the Ripper. However, I am of the belief they may have planted the seed in the notorious killer's head and encouraged the gruesome murders we all know about today.
The canonical five Ripper victims are Mary Ann Nichols, Annie Chapman, Elizabeth Stride, Catherine Eddowes, and Mary Jane Kelly. The canonical five murders were perpetrated at night, on or close to a weekend, either at the end of a month or a week (or so) after. The mutilations became increasingly severe as the series of murders proceeded, except for that of Stride, whose attacker may have been interrupted. Nichols was not missing any organs; Chapman's uterus was taken; Eddowes had her uterus and a kidney removed and her face mutilated; and Kelly's body was eviscerated and her face hacked away, though only her heart was missing from the crime scene.
The brutality of the murders is obvious overkill, which in turn is indicative of a crime of passion. No, I'm not implying that 'Jack' was in love with any of these victims, I am however implying that someone 'Jack' indeed loved however could have been.
Erase all you've ever heard of the murders and just for a moment think, could 'Jack' have been acting out in pain or heartbreak? What if, just what if 'Jack' was really 'Jackie'.
'Hell hath no fury like a woman scorned' is one of the truest adages ever spoken.
Hypothetically let's say we have a wife who is very much in love with her husband and has dedicated her entire life to him, their marriage and let's say their children, only to discover her beloved is having relations with ladies of the night.
Any woman who has ever had her heart broken in such a manner can relate to the extreme and relentless pain our, 'Jackie the Ripper' is feeling. While she knows her husband is the one to blame for the infidelity, those nasty women made it all too easy for him.
Albeit wrong, 'Jackie' decides on revenge.
Witnesses report seeing shabby looking men with the victims. Could shabby translate to a bad disguise? Was 'Jackie' dressing as a man in order to lure these women in?
But you may say to yourself , 'Surely the prostitutes would know it was a woman.' Of course, maybe they did, but hell a woman's money spends just like a man's and don't think for one second a desperate street walker wouldn't be with a woman.
Jack the Ripper features in hundreds of works of fiction and works which straddle the boundaries between fact and fiction, including the Ripper letters and a hoax. Diary of Jack the Ripper. The Ripper appears in novels, short stories, poems, comic books, games, songs, plays, operas, television programs, and films. More than 100 non-fiction works deal exclusively with the Jack the Ripper murders, making it one of the most written-about true-crime subjects.
Of those, less than 2% implied it may have been a woman, and of that tiny percentage they believed if it were a woman it was a prostitute. Goodness knows it couldn't possibly be a lady of any social standing. Insert sarcasm.
I'll leave you cast your own judgment on the subject, it just seems to me you should never rule out any possibility and definitely never underestimate a woman.
When Kristi isn't writing for NewzBreaker, she writes supernatural suspense novels having three currently published. If you would like to check out any of her books they can be found online and at other major retailers like Books a Million and Amazon. Never one to rest, she also paints/designs shoes and items for the home. Check out her eBay store, Watered Down Vodka and her FB page.
Comments or questions are welcome.