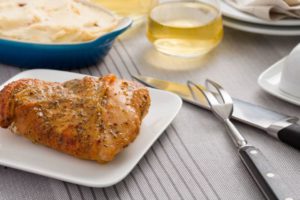 By Kristi O'Toole
In keeping with my 24 days of Thanksgiving countdown, day two brings us possibly one of the easiest ways to jazz up your turkey. If you're not much of a cook but want to do something different, this is for you.
Ingredients:
Turkey (really anything over about 10 lbs)
2 packets of Italian dressing seasoning mix and
2 sticks of butter
Directions:
Melt the butter and add the two packets of seasoning mix, stir well creating a nice baste paste. Spread all over the exterior of your turkey, cover and bake as normal.
Kristi stays busy with her writing, shoe designing and Pampered Chef business so she knows how precious time can be; she also knows how important eating healthy and showing your children life beyond fast food can be. The Pampered Chefs Happy Families segment is designed with busy lives in mind. The recipes presented will be fast, easy and affordable to everyone. The tools you need to complete these meals can be found on her personal website.
Comments or questions are welcome.