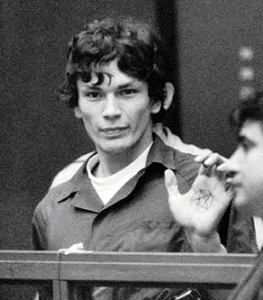 By Misty Beck
Richard Ramirez was born on February 29, 1960 in El Paso Texas. He is known as the Night Stalker for terrorizing the city of Los Angeles and San Francisco in June 1984 until August 1985. He tortured and raped at least twenty five victims, killing at least thirteen of them. Ramirez died in prison on June 7, 2013 of complications from blood cancer and liver failure.
When Ramirez was a child he suffered two head injuries, one at just two years of age when a dresser fell on him leaving a gash on his forehead that required thirty stitches. When he was five he was knocked unconscious by a swing in a park. These head injuries certainly could have contributed to the monster Ramirez would grow up to become. Ramirez began smoking marijuana at the age of ten and when he was twelve he spent a lot of time with an older cousin who introduced him to Satanic worship.
The cousin who served in the Vietnam War and had mental health issues himself would show a teenage Ramirez Polaroid photos of Vietnamese women he had raped, tortured, and mutilated, which was fascinating to young Ramirez. The two of them spent a lot of time smoking marijuana and discussing Satanic Rituals. He soon graduated from marijuana to LSD a powerful hallucinogenic. Around this time Ramirez would choose to sleep in cemeteries, rather than at home. His Wikipedia says he slept in the cemetery to escape his abusive father and his temper.
In 1973 Ramirez was present when his cousin shot his wife in the face during a domestic dispute killing her. The cousin was sent to a mental institution for four years, his combat record was a mitigating factor in his light sentence for the murder. Ramirez was distant with his family during his cousin's detainment, and eventually dropped out of high school. He briefly lived with an older sister and during that time he went on late night peeping tom missions with her husband who was an avid peeping tom. Ramirez had a hard time holding down a job or living in society. He was once fired from a job at a Holiday Inn for using a passkey to burglarize several guest rooms, some of the robberies were done while they guest were in their room sleeping.
At the age of twenty two, he left El Paso and headed to California where he would remain until his death. It was here in California his reign of horror began and his obsession with the occult ran free and rampant. His first crime here in California was a nine year old girl in San Francisco who was found raped and murdered in a hotel basement where Ramirez resided. This crime would go unsolved and not linked to Ramirez until 2009 when his DNA was matched with evidence at the crime scene.
At some point, he headed to southern California and it was here that I believe I actually crossed paths with the Night Stalker. I've only told a handful of people my horrific encounter and each time I have, the hairs on my arms stand up and I get a woozy feeling in my head. It was July or August of 1984, I was fourteen years old. My sister Melody, my brother, myself, and mom lived at 1252 N Formosa Ave in Hollywood California. It was a duplex and my favorite house I've ever lived. It's pretty scary to think that my life could have ended there in a place I enjoyed living so much.
That summer, my mom had vowed to paint the walls in the kitchen and do some minor home improvements. She worked during the day at a 9-5 office job so we would usually start working around 8:30 or 9 after she would rest a bit and make dinner. I think it was our 3rd night of working when our work took us into the later hours than usual. It had to be close to 2:30 a.m. and I was hopelessly tired. I remember it was hot all that week and the fumes from the paint were intoxicating. To get some relief from both the heat and the fumes my mom had the windows in the kitchen open and the back door on the service porch was also a bit ajar.
I was given the task to do some last bit touch ups on the door and window frames on the service porch which led to our backyard. A few feet away my mother sipped her bourbon and soda while Bobby Blue Bland played from a cassette tape. She was doing some minor touch ups on the kitchen windows. There was a stepping stool that we both had used to reach the high areas of the doors and or walls. I pushed the stool near the back door and climbed up.
The light breeze was welcoming. I started stretching my arm up above the door frame and stroking the white paint neatly across and then I would step down to dip the brush into the paint that was setting on top of a washing machine right behind me. I did this several times and then, I felt strange and uncomfortable and didn't realize why. I was just about to step down the stool when I saw a man on the ground in the crack of the door gazing up at me. When our eyes met, we startled each other simultaneously and his eyes were wide and he had a look of shock.
I must have acted extremely fast as I fell back on the washing machine and kicked the door closed and quickly turned the lock. My mother heard the commotion and came to my aid to find me completely white in the face and trembling. She screamed "what the hell is wrong with you?! You look like you've seen a ghost" I replied "there's was a man on his stomach crawling toward the opening of the door" she pushed me to the side and ran outside I screamed "No don't!" so loud that nearby neighborhood dogs started to bark. I rushed to the living room and dialed 911.
The police arrived in less than 5 minutes and scolded my mother for her split decision to chase after what they called the peeping tom.
After they cleared the backyard, and didn't find the man, they told my mom and I to come outside and they showed us an empty paint can that was turned upside down and appeared to be used as a step to look into the service porch window, Apparently, the man was watching for an unknown amount of time and was more than likely about to make his move and surprise ambush us in the kitchen. That was the only thing that made sense. He was basically seconds away from making contact with me before I startled him and prevented his surprise possible attack. We locked up the doors and windows and didn't work anymore that evening or any evening. We finished the job during the day over a couple of Saturday afternoons.
At some point the news started talking about the Night Stalker murders and break-ins that were happening all over the city. There was even a police sketch of the Night Stalker released to the public. Not one time did I think that the man I saw that night at my back door was the same character in the sketch.
A year had passed and the Night Stalker had claimed the lives of thirteen people and twenty five had been raped and tortured. He was in East LA one afternoon on the last day in August in 1985 trying to steal a car and was stopped by a man who lived on the block, he then ran a few blocks down and tried to car jack a woman and was apprehended by several neighbors who beat the crap out of him and held him until police arrived. Some of the neighbors recognized him from the police sketch and were yelling "El Maton El Maton" in English "The Killer". I guess Ramirez found out that this East LA neighborhood was was tight knit and extremely loyal to one another as reports say he begged them to let him go.
Once the news of his capture hit the airwaves most of us in California couldn't wait to get a look at the monster who had spent a year on the loose terrorizing our streets. I remember when the evening news came on and I saw him. I looked at my mom and yelled "That's Him!" she said "who?" I answered with a lump in my throat "that's the man on the back porch last summer". My mom let out a gasp and said "are you sure?" tears begin to flood my eyes I replied "yes those eyes I will never forget them".
Now you if you are from California or you remember this event the police sketch did not resemble him very much. His eyes were almost Asian like whereas the sketch had very large oval eyes. I can't tell you that the man on the porch was him and be 100% sure, but every time I see his picture or video of him since that day he was captured I get chills up my spine. Every fiber of my soul tells me that I looked in the eyes of Richard Ramirez that fateful night in the summer of 1984. It was truly one of the scariest moments in my life to date.
In closing, if this is your first time hearing about Richard Ramirez and want to know details about the victims and his life, Lou Diamond Phillips plays him in a movie released in June 2016 titled "The Night Stalker" It's available online at Amazon and Vudu. You can also watch a documentary on YouTube about him.
Have a Happy Halloween and keep your doors and windows locked. You never know when there is a Night Stalker in your neighborhood.