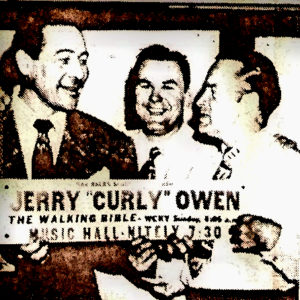 By Kristi O'Toole
The details of this column will appeal to both paranormal and boxing enthusiasts alike. My husband brought this story to my attention several weeks back, but I've sat on it trying to figure out how to do it the justice it deserves.
In the past I've written of charlatans and so called mediums and such, however a chap by the name of Curly Owen falls just outside of that circle in the amazing gift he brings to us. In the past, Curly Owen was known as a bare knuckle, hard spending and fast living sports figure. He was the sparring partner of the world-renowned Max Baer, the worlds heavyweight boxing champion. Owen was a promoter influential in putting live world boxing champions into the ring, close friend to many celebrities, a night club owner and a millionaire business man.
Amid Curly's 'live fast and die hard' lifestyle, something he didn't know was the love of his mother was stronger than ever, and her want for him to straighten out and fly right was so great that she withdrew in to constant prayer and fasting until her beloved son became a Christian.
During one of her many prayer sessions, the big fisted young man whom she adored was literally snatched inward to his senses for no apparent human reason. He immediately became a Christian, and a few days later discovered that he had a total recall of the entire Bible. A bible he had barely read.
With no theological training and no professional credentials, Owen found himself compelled to preach, and when he preached the prophets of old seemed a to leap through his lips. He'd never prepared a sermon. Never having studied the bible he didn't know how, but that certainly didn't stop him.
One eye witness account goes as follows:
"When he reached the pulpit he momentarily gazed toward Heaven, as if waiting for instructions from an unseen source. Suddenly verses of scripture, as on a scroll appear in his mind and he utters what he sees. The experience is almost magical, with no human logic behind it. Many of the verses he gives fluently are totally unknown to him, but he gives them with dead accuracy. As he speaks a general theme becomes evident. He will quote from seventy-five to a hundred verses in a sermon, each with penetrating and probing power. As the scriptures are stated, individuals in the audience will recognize and later report that beyond any coincidence, Mr. Owen had to have some special knowledge of the specific circumstances of their lives, or God supernaturally had directed the verse to them. At times, Owen would say, "I have a verse for you", and give the scriptural text to a specific person. Frequently these particular texts have awesome and exact relevance for the person receiving them."
Curly Owen gradually made his cross country, typically going where he felt led by God. The results were phenomenal.
Time and time again Owen blessed people with his seemingly heaven sent gift. He touched not only everyday people like you and I, but many stars and celebrities were moved as well.
Robert Ripley of 'Believe It or Not' fame had this to say:
"Curly Owen is the human walking Bible and has a phenomenal gift from God. He can quote the entire Bible of 31,173 verses when he is anointed by the Spirit of God, not from memory but as a gift from God."
Owens also touched the likes of Jack Dempsey, Bob Hope and Max Baer. Not only was Owens the sparring partner of the late great, Baer, but it seems he moved him in more ways than in just the ring.
On Wednesday, November 18, 1959, Baer refereed a nationally televised 10-round boxing match in Phoenix. At the end of the match, to the applause of the crowd, Baer grasped the ropes and vaulted out of the ring and joined fight fans in a cocktail bar. The next day, he was scheduled to appear in several television commercials in Hollywood, California. On his way, he stopped in Garden Grove, California, to keep a promise he had made thirteen years earlier to the then five year old son of his ex-sparring partner. Baer presented the now 18 year old with a foreign sports car on his birthday, as he had said he would all those years ago.
Now while that may not move some of you, I believe you'll find the timing of Baer's gesture will.
Baer checked into the Hollywood Roosevelt Hotel upon his arrival on November 19. Hotel employees said he looked fit but complained of a cold. As he was shaving, the morning of November 21, he experienced chest pains. He called the front desk and asked for a doctor. The desk clerk said "a house doctor would be right up." "A house doctor?" he replied jokingly, "No, dummy, I need a people doctor".
A doctor gave Baer medicine, and a fire department rescue squad administered oxygen. His chest pains subsided and he was showing signs of recovery when he was stricken with a second attack. Just a moment before, he was joking with the doctor, declaring he had come through two similar but lighter attacks earlier in Sacramento, California. Then he slumped on his left side, turned blue and died within a matter of minutes. His last words reportedly were, "Oh God, here I go."
Thirteen years is a long time. I know I for one have a dodgy memory and couldn't guarantee a promise I had made that many years ago. But to not only remember, but to fulfill that promise just hours before dying, that tells me that Owen touched Baer on a very deep and spiritual level.
In this situation I'm inclined to believe that Curly Owen had genuine gift. He wasn't hurting for cash or attention, and matter of fact, living the life he was at the time, Owen risked a lot stepping out and embracing Christ and his new gift from God. The two lifestyles mix about as well as oil and water.
So, I close by saying, "Kudos to you Mr. Owen for not turning away from your calling. Kudos to you for stepping up and being a beacon of light and a messenger of God without shame. Just imagine if the likes of Tim Tebow were embraced as you were."
When Kristi isn't writing for NewzBreaker, she writes supernatural suspense novels having three currently published. If you would like to check out any of her books they can be found online and at other major retailers like Books a Million and Amazon. Never one to rest, she also paints/designs shoes and items for the home. Check out her eBay store, Watered Down Vodka and her FB page.
Comments or questions are welcome.