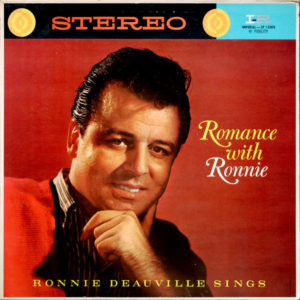 By Jerry Pearce
Browsing through my Apple Music account in the last few days brought forth the revelation of an album that I had long forgotten about, and wrongly so. I had first heard of the name Ronnie Deauville through a fellow standard lover's list of favorite singers in early 2012, and after entering the name in iTunes, I could find only one album, the wistful "Smoke Dreams," credited to his name. Though his short recording career would only consist of a number of big band singles as well as two full LP albums throughout the 1950s, Deauville's career is notable both for the challenging and inspiring story that accompanied it, as well as the voice of the vocalist, a deep, rich baritone that seemed to be crafted out of pure silk.
Compared often favorably to a young Frank Sinatra (though Deauville possessed even deeper ranges of the lowest tones on the music scale), Deauville's stint in the public eye began shortly after service in the Marine Air Corps during World War II. His first job after arriving stateside singing at a small theater in Hollywood would lead to chance notice by a talent scout, which led to his employment as boy singer with a number of orchestras of the time, among them Glen Gray, Tex Beneke, and Ray Anthony, the latter two of which with Deauville would record a number of arrangements as featured vocalist amongst the many instrumental orchestrations.
It would lead to the recording of his first solo album in 1956. Released by Era Records, an independent outfit founded by Herb Newman and Lou Bedell only a year before, "Smoke Dreams" featured a dramatic cover depicting a mist-enshrouded Deauville clad in a white tuxedo singing and beckoning to a beautiful model outstretched on a bed below, entranced by his sound and raising a cigarette holder in recognizance, the smoke from her cigarette drifting and forming the title of the record.
The title number was composed by musician Lloyd Shaffer some years earlier in 1947, and it is the writer himself who backs Deauville on the album's collection of thirteen tunes with a small (and to this date, nameless) quintet ensemble, with the song "Smoke Dreams" both opening and closing the recording, and in the midst, a delightful, low-key, intimate program of love songs. Owing to the idea behind Sinatra's concept albums (basing a collection of songs around a certain theme or feeling), Deauville croons his way gently throughout, featuring perhaps the finest, heart-wrenching version of the song "Say It Isn't So" ever recorded.
What was a promising start came to an abrupt halt a few weeks after the recording sessions, when Ronnie suffered an automobile accident. In the midst of hospital treatment, Deauville contracted Polio. With the revolutionary vaccine at this point still undiscovered, Deauville spent a year in an iron lung. Although many said he would be unable to ever sing again due to the havoc the disease inflicted on breath control, Deauville persisted. After a long period of training his vocal cords to support the change, Deauville would return to the stage successfully, albeit in a wheelchair, and would even record a new album with Imperial Records, "Romance With Ronnie," considered even better than its Era predecessor. Unfortunately, this 1959 record has never been released past its original LP issue.
With his illness sidelining him from any type of sustainable stage career due to the pressures of being wheelchair-bound, Deauville would eventually stop live performances and continue in show business with a career in voice work, performing singing and vocal dubbing in the sound booths of many famous Hollywood studios, among them 20th Century Fox and Warner Brothers.
Ralph Edwards would also feature Deauville on a special episode of "This Is Your Life," with Deauville ushered to the studio under the ruse of recording a song promotional for the March of Dimes and surprised by Edwards in the midst of singing the song "Laura," a tune earlier performed by Ronnie while on the road with Tex Beneke, who was also a guest on the program. Deauville would pass away with his family by his side in Florida during Christmas 1990.
On some recent trips to my local Barnes and Noble, noticing the rapidly shrinking music section, it is becoming clear that compact discs are beginning the road to antiquity. Indeed, with the advent and takeover of the digital download on the home audio market, it is much less costly to record a song in studio and sell it directly via a download link rather than produce physical copies. While this is disappointing to a record buyer (like myself) who relishes picking up his copies in store and having the enjoyment of reading accompanying liner notes, the popularity of the digital download had made it possible for the material of an obscure singer like Deauville to reach a modern audience.
It began with the "Smoke Dreams" album in the early 2010s, as well as later with a 2013 release from the "Sounds of Yesteryear" record label (digitally as well as compact disc). Featuring his collected singles with the big bands of both Tex Beneke and Ray Anthony as well as the entirety of the "Smoke Dreams" album, "The Vocal Touch of Ronnie Deauville" is perhaps the best way to investigate the majority of Deauville's recorded work. Twenty-nine tracks in all, it's a fine testament to a voice that, while not the product of a superfluous career, was the instrument to a fellow who beat the odds.
Pick up a copy of it now; most places retail it for less than $10. Highly recommended. 5/5.
Until next time, music lovers!
Jerry Pearce is an amateur singer in the vein of Frank Sinatra, Perry Como, and Dick Haymes and has released two discs of standards music, Crossroads in 2010, and One Summer Night in 2016. Samples of his music can be heard on his YouTube Channel. To purchase his CDs use the form box below.
Comments or questions are welcome.