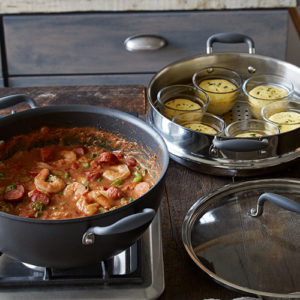 By Kristi O'Toole
Ingredients:
• Gumbo
• Hot cooked rice (optional)
• 8 oz (250 g) Cajun style Andouille sausage
• 3 celery stalks
• 1 medium onion
• 1 medium red bell pepper
• 2 garlic cloves
• 1/2 cup (125 mL) plus 1 tsp (5 mL) canola oil, divided
• 1/2 cup (125 mL) flour
• 2 cups (500 mL) low-sodium chicken broth
• 1 can (15 oz or 398 mL) no-salted added diced tomatoes, undrained
• 1-3 tsp (5-15 mL) Cajun Creole seasoning blend
• 1 lb (450 g) shrimp, peeled and deviened (26-30 ct)
• 2 cups (500 mL) frozen sliced okra
• Hot cooked rice
Cornbread
• Nonstick cooking spray
• 1 box (8.5 oz) cornbread muffin mix (see Cook's Tip)
• 1 egg
• 1/3 cup (75 mL) milk
• 1/2 cup (125 mL) shredded cheddar cheese (optional)
• 1 tbsp (15 mL) finely chopped fresh parsley
Directions:
1. For gumbo, cut sausage into ½" (1 cm) slices. Using the Food Chopper, coarsely chop the onion and the bell pepper. Slice celery into ½" (1 cm) slices.
2. Heat ½ cup (125 mL) of the oil in the All-Purpose Pot over medium-low heat 3 minutes. Slowly whisk in the flour with Nylon Spiral Whisk; stir constantly about 10 minutes, or until roux is milk chocolate in color. Remove roux from the pot; set aside.
3. Add remaining 1 tsp (5 mL) oil, celery, onion, bell pepper, and pressed garlic using Garlic Press to Pot. Cook 3 minutes or until softened, stirring occasionally.
4. Stir in broth, tomatoes, roux, seasoning blend, and sausage; bring to a boil. Reduce heat; cover and simmer for 20 minutes, stirring occasionally.
5. Meanwhile, for cornbread, spray 6 1-cup (250 mL) Prep Bowls with nonstick cooking spray; place into 12" (30-cm) Steamer. Combine cornbread ingredients in a small bowl; mix well. Spoon about ¼ cup (50 mL) of batter into each prep bowl.
6. Stir shrimp and okra into the pot. Place steamer on pot. Cover and cook 18-22 minutes or until wooden pick inserted into center of cornbread comes out clean.
7. Remove steamer to hot pad or trivet; let stand 5 minutes. To remove cornbread, run a knife around rims of prep bowls and invert. Ladle gumbo into bowls and serve with cornbread and hot cooked rice, if desired.
Kristi stays busy with her writing, shoe designing and Pampered Chef business so she knows how precious time can be; she also knows how important eating healthy and showing your children life beyond fast food can be. The Pampered Chefs Happy Families segment is designed with busy lives in mind. The recipes presented will be fast, easy and affordable to everyone. The tools you need to complete these meals can be found on her personal website.
Comments or questions are welcome.