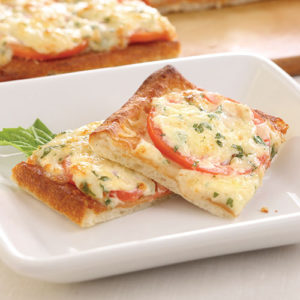 By Kristi O'Toole
Ingredients:
• 1 pkg (13.8 oz or 283 g) refrigerated pizza crust
• 2 cups (500 mL) shredded mozzarella cheese
• 1 oz (30 g) Parmesan cheese, grated (about 1/4 cup/50 mL packed)
• 2/3 cup (150 mL) mayonnaise
• 2 tbsp (30 mL) snipped fresh basil leaves
• 1 garlic clove, pressed
• 4 plum tomatoes
Directions:
Preheat oven to 425°F (220°C). Unroll pizza crust onto Rectangle Stone and spread to within 1 in. (2.5 cm) of edge. Bake 18-22 minutes or until light golden brown. Remove baking stone from oven to Stackable Cooling Rack. Top crust with 1 cup (250 mL) of the mozzarella cheese; let stand 2 minutes or until cheese is melted.
Meanwhile, grate Parmesan cheese using Rotary Grater. Combine Parmesan cheese, remaining mozzarella cheese, mayonnaise, basil and pressed garlic in Small Batter Bowl; mix well.
Slice tomatoes using Ultimate Mandoline fitted with v-shaped blade; arrange evenly over crust. Using Medium Scoop, scoop cheese mixture over tomatoes; spread evenly using Small Spreader. Bake 10 minutes or until crust is golden brown and cheese is melted. Cut into squares using Pizza Cutter.
Kristi stays busy with her writing, shoe designing and Pampered Chef business so she knows how precious time can be; she also knows how important eating healthy and showing your children life beyond fast food can be. The Pampered Chefs Happy Families segment is designed with busy lives in mind. The recipes presented will be fast, easy and affordable to everyone. The tools you need to complete these meals can be found on her personal website.
Comments or questions are welcome.