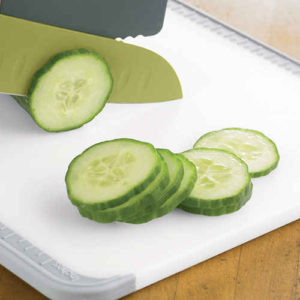 By Kristi O'Toole
With the holidays approaching a person can never have too many quick appetizers or snacks handy.
Ingredients:
• 1 package (8 ounces) cream cheese, softened
• 1/4 cup sour cream
• 1 teaspoon dried dill weed
• 1 teaspoon lemon zest
• 1 cucumber
• 1 loaf Canapé French Bread, sliced
• 1 cup cherry tomatoes, halved
Directions:
In Small Batter Bowl, combine cream cheese, sour cream, dill weed and lemon zest; mix well. Cut cucumber crosswise into 3 equal sections. Peel, seed and coarsely chop one cucumber section. Add to cream cheese mixture; mix gently. Cover and refrigerate until ready to use.
Thinly slice remaining cucumber sections using Ultimate Mandoline; cut each slice in half. Slice canapé bread into eighteen 1/2-inch slices using Bread Knife.
To assemble canapés, place 1 scoop cream cheese mixture onto each bread slice using Small Scoop, spreading evenly. Top each canapé with 1 cucumber slice and 1 tomato half. Serve immediately.
Kristi stays busy with her writing, shoe designing and Pampered Chef business so she knows how precious time can be; she also knows how important eating healthy and showing your children life beyond fast food can be. The Pampered Chefs Happy Families segment is designed with busy lives in mind. The recipes presented will be fast, easy and affordable to everyone. The tools you need to complete these meals can be found on her personal website.
Comments or questions are welcome.