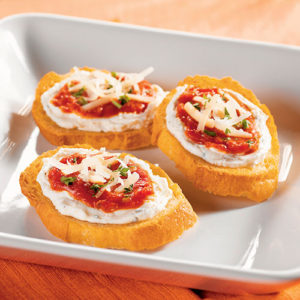 By Kristi O'Toole
Ingredients:
• 24 slices French bread, cut 1/4 inch thick
• 2 tablespoons Garlic Oil or olive oil
• 4 ounces cream cheese, softened
• 1 package (3.5-4 ounces) soft goat cheese
• 3/4 teaspoon Italian Seasoning Mix
• 1 garlic cloves, pressed
• Pesto-Almond Topping, Warm Marinara Topping or Olive Salad Topping
Directions:
Preheat oven to 375°F. Place bread slices on Rectangle Stone; lightly brush with oil using Chef's Silicone Basting Brush. Bake 10-12 minutes or until light golden brown; remove from oven and cool completely.
In Classic Batter Bowl, combine cream cheese, goat cheese, seasoning mix and garlic pressed with Garlic Press; spread over crostini. Top with topping.
Kristi stays busy with her writing, shoe designing and Pampered Chef business so she knows how precious time can be; she also knows how important eating healthy and showing your children life beyond fast food can be. The Pampered Chefs Happy Families segment is designed with busy lives in mind. The recipes presented will be fast, easy and affordable to everyone. The tools you need to complete these meals can be found on her personal website.
Comments or questions are welcome.