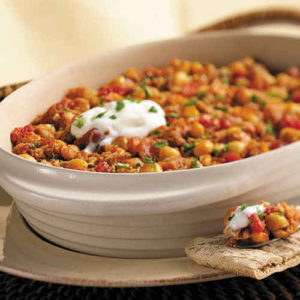 By Kristi O'Toole
Ingredients:
• 2 cans (15 ounces each) chickpeas, drained and rinsed (3 1/2 cups)
• 1 can (14.5 ounces) diced tomatoes, drained
• 2 teaspoons lemon juice
• 1 tablespoon olive oil
• 1 tablespoon finely grated fresh ginger root
• 1 teaspoon Korintje Cinnamon
• 1 teaspoon cumin
• 1/2 teaspoon cayenne pepper
• 1/2 cup chopped onion
• Toasted pine nuts, plain yogurt and snipped fresh parsley (optional)
• Whole wheat pita wedges or Baked Pita Chips (optional, see below)
Directions:
Preheat oven to 350°F. In Classic Batter Bowl, combine chickpeas, tomatoes and lemon juice; set aside. Heat oil in (10-in.) Skillet over medium heat until hot. Add gingerroot, cinnamon, cumin and cayenne pepper. Toast spices, stirring constantly, about 30 seconds or until fragrant. Add onion and cook an additional 3-4 minutes or until onion is tender. Add onion mixture to batter bowl; coarsely mash with Mix 'N Masher.
Transfer chickpea mixture to Mini-Baker; bake 20-25 minutes until heated through. Remove from oven; garnish with pine nuts, yogurt and parsley, if desired. Serve with Baked Pita Chips, if desired.
Kristi stays busy with her writing, shoe designing and Pampered Chef business so she knows how precious time can be; she also knows how important eating healthy and showing your children life beyond fast food can be. The Pampered Chefs Happy Families segment is designed with busy lives in mind. The recipes presented will be fast, easy and affordable to everyone. The tools you need to complete these meals can be found on her personal website.
Comments or questions are welcome.