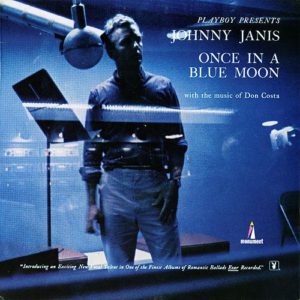 By Jerry Pearce
When we think of the romantic pop vocalist of the 1950s and 1960s, prominent figures like Frank Sinatra, Tony Bennett, Dean Martin, and Dick Haymes are among the first names that spring to the mind. One who chooses to investigate a bit further beyond those legends leading the forefront will come upon the names of other singers who brought forth noteworthy performances to this classic style of music.
Although the amount of creative output is found to be a bit more limited among this secondary variance of vocalists (due to, among other aspects, record sales and musical chart success), singers the likes of Johnny Pace, Don Nelson, and Johnny Holiday brought delightful sounds to the ears of listeners with (mainly one off) albums of contemporary pop standards and jazz as they tried to break into a higher level of singing stardom.
In this same time period, there was another singer trying to find success in the show business realm, one who could not only carry a fine tune, but strum a guitar masterfully as well. Scoring better than the average burgeoning artist with an output of three magnificent albums over a ten year period, the contribution of Johnny Janis to the genre of the American standard is unmistakable.
From a very early age, Janis found himself completely immersed in the sound of jazz. Born in Illinois, he took up jazz guitar at an early age and played his initial gigs in his hometown of Chicago at the age of sixteen. In the early 1950s, Janis was drafted into the United States Army. Stationed in Germany, Janis would eventually work in the department of Special Services, playing guitar in musical combos and recruiting talent for shows throughout the country. Returning stateside in 1952, Janis found work in his native Chicago, using his set of well-crafted vocal cords in addition to playing guitar as he coasted through a series of jobs in both television and radio singing and playing the great standards of the time.
After his initial recording sessions (with the release of sides on the Coral, Carlton, and Mercury labels) didn't yield much fruit, Janis found his first true success with the recording of his first LP on the ABC-Paramount label in 1956. Janis had been acquainted for some time with arranger Don Costa, who at that time was working as A&R director for ABC-Paramount and was slowly becoming a rising force in the field of music orchestrators.
After a chance meeting at the arranger's office, Costa would agree to produce Janis' debut album, "For The First Time." A fine selection of standards combining rhythm with a small string section, the album helped Janis gain public notice, and would lead to a successful appearance on the Jackie Gleason Show, accruing mounting popularity. Tony Bennett also took a liking to the singer, and along with his manager Dee Anthony, helped Janis secure a recording contract at Bennett's homebase of Columbia Records, where he would record his second album in 1960, "This Could Be The Start Of Something Big," another fine collection of standards, under the direction of legendary producer Mitch Miller.
Although his time at Columbia would only see the release of this singular album (due to social wrangling and company politics behind the scenes), it paved the way to the album that inspired this article. Hugh Hefner, king of the Playboy Magazine empire, was in the midst of opening his first Playboy Club in the early 1960s, with several more around the world to follow. Hired to provide a musical act to patrons among a bevy of other entertainment talent, Janis soon found himself jet setting to the Bunny nightclubs across the map, serenading audiences and rubbing elbows with other up and coming talent, and eventually, Hefner himself.
With hope for advancement at Columbia fading, Hefner, a huge fan of jazz and standards fare, volunteered to produce a new album for Janis. Turning to the figure who had really helped get his recording career under steam at ABC-Paramount some years before, Janis and Hefner chose Don Costa to write the charts. Just off his success with Frank Sinatra's new (now classic) album for the Reprise label, "Sinatra & Strings." Costa would use the same kind of sweeping, lush orchestration when preparing charts for Janis, and the genesis of "Once In A Blue Moon" was born.
Released on Monument Records in the United States in 1965 (as well as abroad via London Records), this album is a true delight. It's difficult to compare the voice of Janis to any other singer due to his unique style of phrasing, and his originality in tackling a standard comes through most in his singing of a ballad, the main theme prevalent in the musical program. Sounding quite off the cuff, Janis shines with wonderful readings of "Why Try To Change Me Now," "I'm A Fool To Want You," as well as the seldom-performed standards "Young Ideas" and "Isn't It A Pity." The standout performance comes with his intimate reading of the (also seldom) Matt Dennis-Jerry Gladstone song "Be Good To Her," with Costa's strings soaring off the record with a solid accompanying vocal.
Although Janis would record several more singles for Monument, the label would fold before any of them could be released. Although the Playboy album would serve as Janis' swan song in terms of albums released by a major label, Janis' would go on working as a recording artist and sideman, forming a music publishing company and settling in Nashville, where he would produce his own albums of jazz and standards music accompanying his vocals with his signature guitar styling. As of this writing, he continues in this fashion.
"Once In A Blue Moon." Highly recommended and available for digital download at iTunes. 5/5.
Until next time, music lovers!
Jerry Pearce is an amateur singer in the vein of Frank Sinatra, Perry Como, and Dick Haymes and has released two discs of standards music, Crossroads in 2010, and One Summer Night in 2016. Samples of his music can be heard on his YouTube Channel. To purchase his CDs use the form box below.
Comments or questions are welcome.