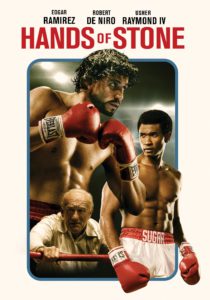 "De Niro is dynamite, finding the quiet center of a complicated man. It's an award-caliber performance."–Rolling Stone
Hands of Stone brings one the most infamous stories in sports history to the big screen, complete with a knock-out cast including Edgar Ramírez, two-time Academy Award® winner Robert De Niro, Usher Raymond IV, Ana de Armas, Ellen Barkin, John Turturro and Ruben Blades. Hands of Stone arrives on Blu-ray™, DVD and On Demand November 22, and is available on Digital HD November 8. Written and directed by Jonathan Jakubowicz and shot in both Panama City and New York, this dynamic bio-pic brings a true-life tale from the golden age of boxing to life – chronicling the life of boxing legend Roberto Durán and his rivalry with Sugar Ray Leonard.
Hands of Stone follows the life of Roberto Durán (Ramírez), the Panamanian fighter who, with the help of his trainer Ray Arcel (De Niro) made his professional debut in 1968 as a 16 year old and retired in 2002 at the age of 50. In June 1980, he defeated Sugar Ray Leonard (Usher Raymond) to capture the WBC welterweight title, but shocked the boxing world by returning to his corner in their November rematch, famously saying the words 'no más' ('no more').
Hands of Stone will be available on Blu-ray and DVD for the suggested retail price of $34.99 and $29.98, respectively. Special features include the featurette "Roberto Durán: A Boxing Legend, A Nation's Pride"; deleted scenes; and two video versions of the film's title song – "Champions" lyric video featuring Usher, and "Champions" lyric video featuring Ruben Blades.
To learn more about the film, please visit www.anchorbayentertainment.com.
ABOUT THE WEINSTEIN COMPANY
The Weinstein Company (TWC) is a multimedia production and distribution company launched in October 2005 by Bob and Harvey Weinstein, the brothers who founded Miramax Films in 1979. TWC also encompasses Dimension Films, the genre label founded in 1993 by Bob Weinstein. During Harvey and Bob's tenure at Miramax and TWC, they have received 351 Oscar nominations and won 82 Academy Awards.
Since 2005, TWC and Dimension Films have released such films as VICKY CRISTINA BARCELONA; THE READER; INGLOURIOUS BASTERDS; SCRE4M; SPY KIDS: THE KING'S SPEECH; UNDEFEATED; THE ARTIST; THE MASTER; SILVER LININGS PLAYBOOK; DJANGO UNCHAINED; SCARY MOVIE 5; LEE DANIELS' THE BUTLER; PHILOMENA; THE IMITATION GAME; PADDINGTON; WOMAN IN GOLD; SOUTHPAW, CAROL, THE HATEFUL EIGHT, SING STREET, and HANDS OF STONE. Upcoming releases include THE FOUNDER, TULIP FEVER, GOLD, and LION.
TWC boasts an active television production division, which garnered twelve Emmy nominations in 2015. TWC Television produces the reality powerhouse Project Runway, with its spin-off series Project Runway All Stars, hosted by Alyssa Milano, Project Runway Jr, featuring supermodel Hannah Davis and fashion critic Kelley Osbourne Under The Gunn, and Threads. Scripted series include John Fusco's Marco Polo with Netflix, going into its second season, and War & Peace, which debuted on Lifetime, A&E and HISTORY in 2016. Scripted projects in development include Ten Commandments, Daniel Stashower's The Hour Of Peril and military drama Six. TWC will also launch several new projects in 2016 across several networks, including MTV, Lifetime, and AMC.
ABOUT ANCHOR BAY ENTERTAINMENT
Anchor Bay Entertainment is a leading independent home entertainment company that acquires and releases a wide array of filmed entertainment in the theatrical and home entertainment markets, including STARZ Original series, children's entertainment, fitness (Anchor Bay Fitness), sports and specialty films on Blu-ray™ and DVD formats. The company has long-term distribution agreements in place for select programming with The Weinstein Company, AMC Networks and Entertainment Studios, among others. Headquartered in Beverly Hills, Calif., Anchor Bay Entertainment (www.anchorbayentertainment.com) is a full service distributor in the North American market. Anchor Bay Entertainment is a Starz (NASDAQ: STRZA, STRZB) business, www.starz.com.
HANDS OF STONE Blu-ray™
Street Date: November 22, 2016
Pre-book: October 19, 2016
Catalog #: BD64037
UPC: 01313264037280
Run Time: 111 Min.
Rating: Rated R
SRP: $34.99
Format: Widescreen
Aspect Ratio: 2.40:1
Audio: English DTSHD-MA 5.1
HANDS OF STONE DVD
Street Date: November 22, 2016
Pre-book: October 19, 2016
Catalog #: WC64036
UPC: 01313264036580Run Time: 111 Min.
Rating: Rated R
SRP: $29.98
Format: Widescreen
Aspect Ratio: 2.40:1
Audio: English Dolby Digital 5.1