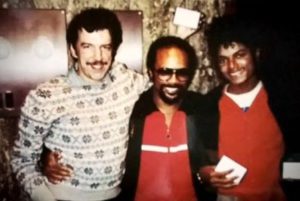 By "Bad" Brad Berkwitt
Sad news to report today. Long time songwriter Rod Temperton who gained worldwide fame by writing Thriller and Rock With You massive hits for Michael Jackson's career has died at the age of 66 last week in London. The cause of death was listed in the press release as a "Battle with Cancer".
Temperton's other hits included Off The Wall and Baby Be Mine for Jackson and Boogie Nights for his band Heatwave.
Chic guitarist Nile Rodgers was among those paying tribute, tweeting: "Your genius gave us a funkier world!"
Michael Jackson's sister LaToya wrote: "A brilliant prolific #songwriter Rod Temperton may you #RIP one of my favorite #songs Rock With You #Thriller #legend #Music #MichaelJackson"
Producer and DJ Mark Ronson wrote: "So devastated to hear that Rod Temperton has passed away. A wonderful man & one of my favorite songwriters ever. thank you for the magic x"
Temperton, whose private funeral has taken place, was nicknamed "The Invisible Man" because of his low profile.
NewzBreaker extends our condolences to the Temperton Family in their time of grief.