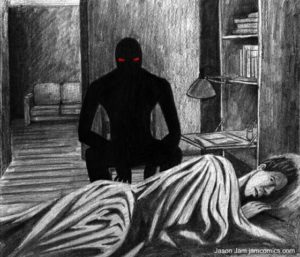 By Misty Beck
Sleep paralysis is phenomenon in which a person temporarily experiences an inability to move, speak, or react. You are stuck in the transitional state between wakefulness and sleep often accompanied by hallucinations. Some people say the experience feels like there's a super natural being present at the time. It may feel as if they are sitting on your chest or physically restraining your arms, legs, torso, or all of these body parts simultaneously.
Accounts of sleep paralysis can be found in Persian medical texts dating all the way back to the 10th century. People have associated the experience with everything from witches, aliens, creatures such as gargoyles, and ghosts.
Stress, depression, certain prescription medications, and more recently, an inherited gene have all been linked to sleep paralysis. There's no explanation as to why people who have experienced it do so either often or only every once in a while. There is also very little knowledge as to what triggers it. However, some studies have found that during rapid eye movement (REM) sleep the brain has vivid dreams while the muscles of the body are essentially turned off. Sleep paralysis is said to occur when a person wakes before REM is completed. A person may be conscious but the body's ability to move and function hasn't returned yet.
I had no idea what this was the 1st time I experienced it years ago. It was before the internet so at the time I couldn't Google "why the hell can't I move or speak when I am barely waking from a sleep?" I will tell you it is a frightening experience that has left me confused and traumatized every time I've had an episode. I don't have them very often thank goodness. Honestly it's been a few years up until recently, and it's only happened here at work the past couple of times its occurred. I guess you may be wondering why I am sleeping at work. Well, the office I work in is a warehouse, we manufacture refrigeration gaskets here on site so it's a humongous space. The entire first floor of the building is our warehouse and a front office. The top floor where I work my accounting magic is more like a an "office", so there is a kitchen up there and in that kitchen, is a couch and chair for relaxing on your break or in my case an occasional nap.
The first time was about 6 months ago. I had a long weekend and it was on a Monday so by lunch I was really feeling fatigue. I decided to take a little power nap in the break room, that nap turned into a visitor from my past… Sleep paralysis had returned after lying dormant for nearly a decade. The strange thing about it is you really are aware that you can't move or speak. I knew exactly what was taking place, I even thought about how it had been such a long time since an episode. While I was struggling to gain some control to raise my arm, I suddenly felt the presence of someone or something standing right next to the couch. The panic usually starts about this time and then it becomes even more difficult to snap your body out of this horrific state. I suddenly felt it slowly sit down at the end of the couch near my feet. My breathing was becoming shallow and rapid when all of a sudden, I broke out of the paralysis. I remember jumping to my feet and racing back to my desk. I asked my coworker if she had ever experienced this and she quickly replied "hell no"! I went back to work and soon let the event fade from my mind.
When that experience took place I had already read up on sleep paralysis and was very frightened that the experience was reminiscent to some of the scarier accounts I read online where some people have seen a dark figure in their peripheral vision but since they are unable to move their heads, they can't really make out completely what they are seeing. More terrifying than that is the mythological legend that seems to suggest that sleep paralysis could be a demon known as Incubus who preys upon women to engage in sexual activity while they are sleeping in a paralyzed state. Its female counterpart is Succubus. A demonic voice or inaudible whispering can sometimes be heard during this encounter.
If you think reading that is scary, imagine experiencing it. I don't think I experienced the Incubus, but I did encounter something this past Monday while I was napping in the break room that was different than all the times before and it was more frightening than it ever has been. I laid down about 12:30 PM and set my alarm for 1:15 PM. I went straight to sleep and it was a good solid sleep. About 10 minutes before my alarm woke me I started hearing whispering and then I realized I was in a full sleep paralysis episode. I tried to turn my head to see if a co-worker was behind me whispering. I swear I even heard my name. It was a male voice and it was deep. The words were inaudible, but some of it sounded directed toward me and even got louder as if they were approaching the couch and looking down at me while whispering. I knew I had to get a hold of myself and try to break the paralysis, but you really have no way of doing it and the more you try the more difficult it seems.
After several minutes maybe three or four I was able whisk my head around to see nothing, but an empty room. I rushed to my feet and started thinking about the Incubus. I've been thinking about it ever since Monday, that's why I decided to share my story. It also is pretty creepy and hey it's October, so very fitting for the season as well. This has only happened this one time when I heard a male voice whispering. I'm starting to think I should get more rest on Sunday evening since Monday seems to be the days I'm tired enough to retire to that break room. After this past Monday, it's unlikely I'll nap there again.
According to a study done by Pennsylvania State University 7.6 percent of the general population has had an episode of sleep paralysis. It's most common in younger adults, people with stress or other sleeping disorders, and people with mental illness. People who suffer from sleep paralysis share their accounts on countless YouTube videos, Reddit threads, and sleep paralysis websites and forums.
In closing, I will say that If any of you have ever had an episode you can probably relate to this article. For those of you haven't, you are very lucky it is something I wish I never experienced and I hope I don't for several weeks, months, or even years. Unfortunately, I fear I will have another episode and will continue to for the rest of my life. I just hope it's the common loss of ability to move. No more whispering or something trying to get cozy with me on a couch or anywhere for that matter.
Comments or questions are welcome.