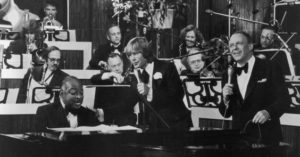 By Jerry Pearce
The year 1976 marks an interesting footnote in the history of Francis Albert Sinatra. In addition to other high-profile musical moments that transpired (including his reunion of former partners Dean Martin and Jerry Lewis on the latter's annual MDA Telethon, as well as his bicentennial performance of "The House I Live In" in Washington D.C.), this year was also notable thanks to his memorable, if not frequent performances with another legendary figure of music, folk and country artist John Denver. A rare occurrence in Sinatra's career, his collaborations with Denver are counted amongst the few times that Sinatra shared equal billing with an artist of relative popularity, a limited group that includes his Rat Pack cronies Dean Martin and Sammy Davis, JR., as well as Ella Fitzgerald, Count Basie, Tony Bennett, Shirley MacLaine, and the team of Steve Lawrence and Eydie Gorme.
The genesis behind the unlikely pairing was conceived by the late producer and all-around impresario Jerry Weintraub. Originally an employee at the Music Corporation of America, Weintraub managed many entertainment acts before leaving to start his own personal management company at the dawn of the 1970s.
The early days of Weintraub's solo agency included taking in an evening of entertainment in New York City's Greenwich Village, where he encountered a striving folk artist performing a series of his own compositions in a small club in the heart of the district. Impressed and intrigued by the singer's style and manner, Weintraub signed him as a new client. Although he already had a few albums credited to his name (released by RCA Victor), John Denver's entrance into a business partnership with Weintraub would guide the burgeoning singer's career to new heights, and soon enough, America would also find themselves impressed and intrigued by the young talent. Within a few years, Denver would eclipse the pop charts with a series of number one compositions and accompanying albums, establishing and sustaining his presence on the mainstream music scene.
At the same time, in the early to mid 1970s, Frank Sinatra was growing bored with himself. In the midst of a self-imposed retirement after more than thirty years of performing, he was now looking to find his way back into the music spectrum. Following an initial "comeback" album and accompanying Thanksgiving-time special hosted by NBC and sponsored by Magnavox ("Ol' Blue Eyes Is Back), he was searching for the next step when friend Weintraub stopped over at his house for a visit. Aware of Weintraub's success with Denver, Sinatra asked for his opinion on how to firmly recapture the public. Weintraub responded by naming the first idea that came to his head: he was going to put Frank in a boxing ring.
This idea would turn into "The Main Event," a concert tour spanning Boston, Buffalo, Philadelphia and Pittsburgh before culminating with two live performances at Madison Square Garden in New York City on the 12th and 13th of October, 1974. As the man in charge, Weintraub would pull out all the stops. With the theme truly resembling a boxing match, the show was broadcast on ABC with opening introductions by Howard Cosell, a hoard of celebrities in tow as audience members, and Sinatra led to the ring-style stage by confidant Jilly Rizzo and Weintraub himself as the heavyweight champion of singing, a live coast to coast television event unrivaled for the time. The true entrance of Sinatra into the "Concert Years" of his career, the special (and resulting live album, Sinatra's second of the type) was a resounding success.
There had been mutual admiration between both Sinatra and Denver for sometime before their first time sharing the stage. Denver had a great respect for the big band era and the luminaries that made it successful, and Sinatra enjoyed Denver's compositions to such a degree that he recorded a number of cover versions of them in studio before his first retirement, including "My Sweet Lady" and "Leaving On A Jet Plane," and after his comeback with recordings of "Like A Sad Song" and "A Baby Just Like You." With the singers appearing simultaneously at Harrah's Lake Tahoe in the first week of August 1975, both parties agreed to a joint promotion campaign. Billboards and print advertisements heralded the "back to back" appearance of Sinatra and Denver at the resort, featuring a photo of the two singers standing shoulder to shoulder, an image created with dual photographers shooting both Sinatra in Las Vegas and Denver in New York on the same day.
With musical accompaniment by the Brian Farnon Orchestra, Denver would play the early dinner show, with Sinatra and comedian Pat Henry taking reins for the later cocktail show. On the final night of their dual stand, Denver mustered up the courage to have a little fun with Sinatra. Watching the Chairman backstage, Denver waited until Sinatra approached the bar cart onstage for a helping of Jack Daniels and then proceeded to walk onstage with a frosty beer mug filled with milk, telling Sinatra he was looking forward to their hike in the wilderness the next day. Sinatra reportedly fell over laughing along with the rest of the audience, and Denver regretted not doing the joke sooner than the closing night.
Joking around with Sinatra on stage would happen again, soon enough. Denver had signed with the ABC Television network to produce a series of music specials in conjunction with Weintraub and producer George Schlatter, and in early 1976, the television special "John Denver and Friend," Denver's third, went into production. With Denver and Sinatra acquainted, not to mention mutual friends Weintraub and Schlatter all sharing the same circle, the way was paved for something that, to this author, was extraordinary. While the first portion of the show would be dedicated to John Denver's compositions of the time, the second portion would transform into a veritable tribute to Sinatra and his music.
While many a Sinatra fan has been left wondering why all the pomp and circumstance was not reserved for a special featuring only the Chairman himself, there's great material to behold. Taped on a glitzy set in the main showroom of the Sahara Hotel in Las Vegas, the Sinatra portion of the special is something to see, and unfortunately to this day, hasn't been released in any official form. Picture it: some one hundred musicians assembled on stage. In the middle, Nelson Riddle and his orchestra, flanked on the left by Harry James and his current orchestra, and on the right by the Tommy Dorsey "ghost band," made up of old and new members of the Dorsey contingent. Huge carboard cutouts of a younger Frank with his respective bandleaders adorn both sides of the stage, and to the rear of Riddle's orchestra, a three section screen projects photographs taken throughout Sinatra's life and career.
Sinatra opens with "I've Got You Under My Skin" to warm applause. Taken at a tempo a bit faster than the studio version, the Riddle orchestra is supplemented by the presence of trombonist Milt Bernhardt, who played the original trombone solo in the 1956 Capitol version of the song, and tried his damndest to recreate it here. Denver then joins Sinatra for an arrangement of "Guys And Dolls" before the floor is given to Harry James, who greets the crowd with a swingin' instrumental of "One O' Clock Jump." Sinatra then joins the James band with a reading of the original arrangement of "All Or Nothing At All," with Sinatra even hitting the pinnacle high note at the climax some thirty-five years since he last sang it.
The action moves to the right side of the stage with Denver and Sinatra (along with a formation of the Pied Pipers) singing a medley of tunes associated with Sinatra's days with Tommy Dorsey, followed by another medley with the Nelson Riddle band as they trade lines from more than a dozen Sinatra hits (Come Fly With Me, Witchcraft, etc.).
Then, all hell breaks loose. To the sound of Denver's welcome and the three orchestras united playing "April In Paris," Count Basie hits the stage. Seated at the piano, Basie begins playing a simple piano introduction ("Tenderly, my boy. He's a secret service piano player," quips Frank) before the brass section blasts in with "All of Me," continuing another medley with Denver and Sinatra trading lines on "My Kind Of Town," "The Lady Is A Tramp," and "I Get A Kick Out Of You," before Sinatra is given the stage alone ("Mr. Sinatra, you are the last word!") to sing the closing lines of "My Way." While "My Way" would remain a concert staple for Sinatra for the rest of his performing career, this performance is notable considering it is one of the rare times Sinatra sang in its original studio key.
While an unedited master version (with outtakes and technical gaffes included) has made its way across the trading circuit over the past years, the completed ABC special has gone unseen and unreleased since its initial showing that following March of 1976. While unfortunate that several worthy Sinatra-related dates have passed with this special still languishing in a vault somewhere, clips from the unedited version have been known to pop up on YouTube frequently.
With the television special still fresh in mind, Harrah's scheduled another team-up of Sinatra and Denver for that coming September of 1976, with Denver beginning his stand, Sinatra joining him midway for a series of double-bill performances, and Sinatra finishing out the final few dates solo. Some aspects of the television special were carried over into their live performances. Denver would open the show with a solo set, followed by Sinatra, then both singers coming center stage to perform two medleys, one centered around Denver's music with Denver on guitar (Sinatra had recorded them) followed one of Sinatra's music (the Riddle medley from the television special), along with a standalone duet of "September Song." Audience taken recordings from the set reveal a friendly camaraderie between both singers, with good-natured ribbing of each other in reference to Denver's wilderness origin, their age difference, Sinatra's advancing age, etc. The demand was so great to see the two in concert that extra performances were added to the roster, with the singers performing six shows over a two day period.
While there have been some detractors who claim that the duo was a hybrid that had no chemistry (most of it stemming from the fact that Sinatra rushed through the TV taping with the intent of getting to another engagement on time), evidence of their mutual admiration was proven again the following year, when Sinatra had Denver as one of his guests on his new NBC television special, "Sinatra and Friends," in 1977. Together, they would perform the duet of "September Song" created for their Harrah's appearance the year prior.
We're left with that burning question. Why Frank Sinatra and John Denver? The answer may lie with Sinatra himself. Throughout his career, Sinatra could always be found reinventing himself as musical tastes changed, and the years following his comeback would find him experimenting with music by the most modern of songwriters/performance artists, including pieces by Joe Raposo, Elton John, Neil Diamond, Paul Anka, and Barry Manilow. His teaming with John Denver stands as another experiment of sorts, helped by the intervention of Jerry Weintraub.
Sinatra was trying to remain current, and all of the aforementioned artists were overjoyed to collaborate or share a stage with him. In the case of Sinatra and Denver, though their styles of music come from vast opposite directions, their appreciation of each other when collaborating is consistently evident. It's almost hard to believe that Sinatra would outlive his younger co-star. After several more years of performing and hit making, a plane crash would claim Denver, a longtime flight enthusiast and pilot, in October 1997. Although their partnership would end badly after working together for many years, Jerry Weintraub would remember Denver fondly and consistently credited Denver with his first major success as a star maker. Weintraub's success as concert promoter would lead to a prolific second career as a film producer, his company later in charge of production on the George Clooney-headed remake of the Rat Pack film "Ocean's Eleven" in 2001, not to mention a bevy of other motion pictures.
In 2011, a documentary chronicling the highs and lows of Weintraub's career was broadcast on the Home Box Office network, including Weintraub's recounting of his time with both Sinatra and Denver.
The name of the show? "His Way."
Until next time, Sinatra lovers!
Jerry Pearce is an amateur singer in the vein of Frank Sinatra, Perry Como, and Dick Haymes and has released two discs of standards music, Crossroads in 2010, and One Summer Night in 2016. Samples of his music can be heard on his YouTube Channel. To purchase his CDs use the form box below.
Comments or questions are welcome.