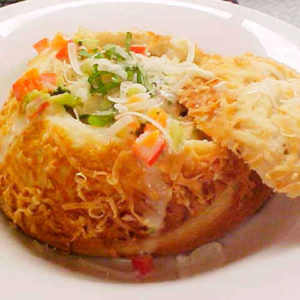 By Kristi O'Toole
These crispy bread bowls will compliment any soup on the menu.
Ingredients:
• 2 packages (13.8 oz or 283 g each) refrigerated pizza crust
• 11/2 tbsp (22 mL) olive oil
• 1/2 cup (125 mL) grated fresh Parmesan cheese
Directions:
Preheat oven to 400°F (200C). Cut dough in half to form four equal portions. Place dough cut-side down on Large Round Stone with Handles; press lightly to form four 1/2-in. (1 cm) rounds.
Brush dough with olive oil; sprinkle with cheese. Bake 21-23 minutes or until deep golden brown.
To serve, slice off top of each bread round; carefully remove centers to form bowls. Place on plates; ladle soup into bowls.
Kristi stays busy with her writing, shoe designing and Pampered Chef business so she knows how precious time can be; she also knows how important eating healthy and showing your children life beyond fast food can be. The Pampered Chefs Happy Families segment is designed with busy lives in mind. The recipes presented will be fast, easy and affordable to everyone. The tools you need to complete these meals can be found on her personal website.
Comments or questions are welcome.