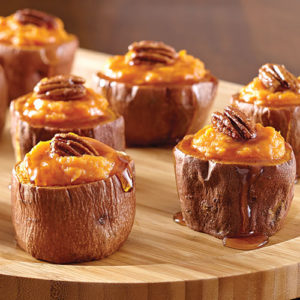 By Kristi O'Toole
Thank goodness fall is here! I couldn't wait any longer to share these delectable beauties with you all.
Ingredients:
• 2-3 Sweet Potatoes
• Your favorite mashed sweet potato mix ins
• Pecans and Maple Syrup
Directions:
To make them, cut off the ends of cleaned sweet potatoes, then cut into 2″ chunks. Brush with oil and bake for 45 minutes at 425°F on a Large Bar Pan until tender. Once cooled, use the Scoop Loop™ or the loop end of the Core & More to remove insides (use these to make mashed potatoes). Leave enough flesh around the skin so it creates a sturdy cup. Fill with your favorite mashed sweet potato recipe and bake until the filling is hot. Drizzle with maple syrup and add your pecan as the finishing touch!
Kristi stays busy with her writing, shoe designing and Pampered Chef business so she knows how precious time can be; she also knows how important eating healthy and showing your children life beyond fast food can be. The Pampered Chefs Happy Families segment is designed with busy lives in mind. The recipes presented will be fast, easy and affordable to everyone. The tools you need to complete these meals can be found on her personal website.
Comments or questions are welcome.