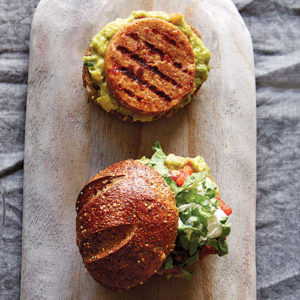 By Kristi O'Toole
Ingredients:
• 1 can (16 oz or 398 mL) low-sodium pinto beans, drained and rinsed
• 1 lb (450g) 93% lean ground turkey
• 1/2 cup (125 mL) shredded cheddar cheese
• 1 cup (250 mL) plain dry bread crumbs
• 1 1/2 tbsp (22 mL) low-sodium taco seasoning
• 12 mini slider buns, (6″/15-cm) corn tortillas or flour tortillas
• Optional toppings: shredded lettuce, salsa, guacamole, Greek yogurt or sour cream, and tortilla chips
Directions:
Place the beans into a large bowl and use the Mix 'N Chunk to mash.
Add the turkey, cheese, bread crumbs, and seasoning. Mix until thoroughly combined.
Place the slider insert into the base of the Burger & Slider Press. Lightly spray the base and slider press with oil using the Kitchen Spritzer.
Using the Medium Scoop, place two scoops of meat mixture into the press. Gently press the meat onto a cutting board. Repeat with the remaining meat mixture. (You may need to spray the press more than once to prevent sticking.)
Heat the Executive Nonstick Double Burner Grill over medium heat for 3–5 minutes. Grill the sliders for 3–4 minutes per side, or until the centers of the sliders are no longer pink and the internal temperature reaches 165°F (74°C).
Serve on mini slider buns, or cut the sliders in half and serve in tortillas. Top with optional toppings.
Kristi stays busy with her writing, shoe designing and Pampered Chef business so she knows how precious time can be; she also knows how important eating healthy and showing your children life beyond fast food can be. The Pampered Chefs Happy Families segment is designed with busy lives in mind. The recipes presented will be fast, easy and affordable to everyone. The tools you need to complete these meals can be found on her personal website.
Comments or questions are welcome.