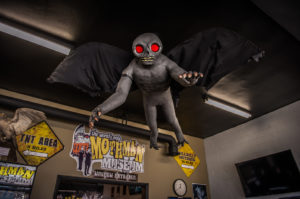 By Kristi O'Toole
As if things weren't terrifying enough already for the folks of the small West Virginia town, Point Pleasant, thanks to the Mothman they were about to see worse. A lot worse. Sightings of Mothman had somewhat faded away into the strange "twilight zone" from which he had come… but the horrors in Point Pleasant had far from ended. At around 5:00 in the evening on December 15, 1967, the 700-foot bridge linking Point Pleasant to Ohio suddenly collapsed while filled with rush hour traffic. Dozens of vehicles plunged into the dark waters of the Ohio River and 46 people were killed. Two of those were never found and the other 44 are buried together in the town cemetery of Gallipolis, Ohio.
On that same tragic night, the James Lilley family (who still lived near the TNT plant at that time) counted more than 12 eerie lights that flashed above their home and vanished into the forest.
The collapse of the Silver Bridge made headlines all over the country and Mary Hyre went days without sleep as reporters and television crews from everywhere descended on the town. The local citizens were stunned with horror and disbelief and the tragedy is still being felt today.
Many claimed to have seen what they believed to be the Mothman perched atop the ill-fated bridge just moments before it collapsed.
During Christmas week, a short, dark-skinned man entered the office of Mary Hyre. He was dressed in a black suit, with a black tie, and she said that he looked vaguely Oriental. He had high cheekbones, narrow eyes and an unidentified accent. He was not interested in the bridge disaster, she said, but wanted to know about local UFO sightings. Hyre was too busy to talk with him and she handed her a file of related press clipping instead. He was not interested in them and insisted on speaking with her. She finally dismissed him from her office.
That same night, an identically described man visited the homes of several witnesses in the area who had reported seeing the lights in the sky. He made all of them very uneasy and uncomfortable and while he claimed to be a reporter from Cambridge, Ohio, he inadvertently admitted that he did not know where Columbus, Ohio was even though the two towns are just a few miles apart.
So who was Mothman and what was behind the strange events in Point Pleasant? Some folks believe he could be a government experiment gone wring, hence all the men in black making uncomfortable appearances.
Whatever the creature may have been, it seems clear that Mothman was no hoax. There were simply too many credible witnesses who saw "something". It was suggested at the time that the creature may have been a sandhill crane, which while they are not native to the area, could have migrated south from Canada. That was one explanation anyway, although it was one that was rejected by Mothman witnesses, who stated that what they saw looked nothing like a crane.
While I understand mass hysteria, I find it hard to believe someone could mistake a crane for a 'giant man with wings'. I'd be happier believing that some eye witness accounts were plum made up.
But there could have been a logical explanation for some of the sightings. Even John Keel (who believed the creature was genuine) suspected that a few of the cases involved people who were spooked by recent reports and saw owls flying along deserted roads at night. Even so, Mothman remains hard to easily dismiss. The case is filled with an impressive number of multiple-witness sightings by individuals that were deemed reliable, even by law enforcement officials.
But if Mothman was real… and he truly was some unidentified creature that cannot be explained, what was behind the UFO sightings, the poltergeist reports, the strange lights, sounds, the "men in black" and most horrifying, the collapse of the Silver Bridge?
John Keel believes that Point Pleasant was a "window" area, a place that was marked by long periods of strange sightings, monster reports and the coming and going of unusual persons. He states that it may be wrong to blame the collapse of the bridge on the local UFO sightings, but the intense activity in the area at the time does suggest some sort of connection. Others have pointed to another supernatural link to the strange happenings, blaming the events on the legendary Cornstalk Curse that was placed on Point Pleasant in the 1770's.
And if such things can happen in West Virginia, then why not elsewhere in the country? Can these "window" areas explain other phantom attackers, mysterious creatures, mad gassers and more that have been reported all over America? Perhaps they can, but to consider this, we have to consider an even more chilling question… where will the next "window" area be? It might be of benefit to study your local sightings and weird events a little more carefully in the future!
Read Part I : The Mothman: Terrifying Cryptid Or Misidentification?
When Kristi isn't writing for NewzBreaker, she writes supernatural suspense novels having three currently published. If you would like to check out any of her books they can be found online and at other major retailers like Books a Million and Amazon. Never one to rest, she also paints/designs shoes and items for the home. Check out her eBay store, Watered Down Vodka and her FB page.
Comments or questions are welcome.