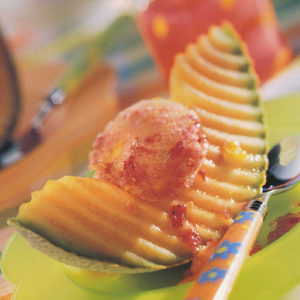 By Kristi O'Toole
Ingredients:
• 1 can (8 1/2 ounces) sliced peaches in syrup
• 1 can (11.5 ounces) peach nectar
• 1 package (10 ounces) frozen sliced strawberries in syrup, thawed
• 1 medium cantaloupe
Directions:
Place the small Stainless Mesh Colander over Small Batter Bowl.
On Cutting Board, finely chop peaches using Food Chopper. Add chopped peaches, nectar and strawberries to Batter Bowl. Stir with Bamboo Spoon.
Divide mixture evenly among 3 Ice Shaver Tubs and cover with lids. Place tubs and Chillzanne® Mini-Bowl in freezer. Freeze mixture until firm (about 6 hours).
When ready to serve, prepare cantaloupe wedges before shaving fruit mixture. Using Crinkle Cutter, cut cantaloupe in half through the middle on cutting board. Scoop out seeds. Starting with one melon half, use Garnisher to cut melon evenly into 4 small wedges. Repeat with other melon half to make a total of 8 wedges.
Place Chillzanne® Mini-Bowl under Ice Shaver to catch shavings. Remove frozen mixture from 1 tub and shave with Ice Shaver.
Using Medium Scoop, place 1 scoop of shaved fruit mixture in each cantaloupe wedge. Serve immediately. Save the 2 remaining tubs of frozen fruit mixture to make this breakfast treat again or to enjoy for a snack or dessert.
Kristi stays busy with her writing, shoe designing and Pampered Chef business so she knows how precious time can be; she also knows how important eating healthy and showing your children life beyond fast food can be. The Pampered Chefs Happy Families segment is designed with busy lives in mind. The recipes presented will be fast, easy and affordable to everyone. The tools you need to complete these meals can be found on her personal website.
Comments or questions are welcome.