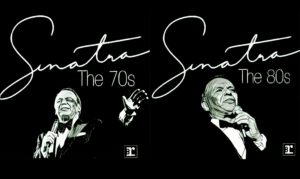 By Jerry Pearce
In 2006, with the upcoming release of Tony Bennett's first collaborative album with multiple artists, the wonderful "Duets: An American Classic," Columbia Records saw fit to enforce the legend of their longtime employee and legendary vocalist with the joint release of two compilation titles featuring a wealth of Bennett's classic earlier work for the label.
The discs, "Greatest Hits of the 50s" and Greatest Hits of the 60s," constitute a collection of Bennett's chart-topping hits and well-known performances during the decades in question, considered the peak of his work as a recording artist, though Bennett's voice has remained in wonderful shape and his recorded work prolific and plentiful as the years have endured. The two "Hits" titles also include some other uncommon material from Bennett's extensive catalogue, and remain as perfect introductory music programs for those interested in discovering how Bennett became as popular a singer as he remains to be this day.
When we look at Frank Sinatra, there is no limit to these type of compilation discs covering and cherry-picking classics from the vast career of the Chairman of the Board. There is such a great amount of them (i.e. "The Very Good Years," "Greatest Love Songs," "Nothing But The Best," "Best of the Best," "Seduction," "Sinatra With Love"), I dedicated my first article here on NewzBreaker to the subject of their various releases.
While the majority of Sinatra fans consider his most prolific period of recording to have taken place between his time at Capitol Records to the end of his pre-retirement period at Reprise Records (a time spanning from 1953 to 1970), there were several other noteworthy recordings created by Sinatra in studio in the years following his 1973 comeback. Although he would only release five full studio albums ("Ol' Blue Eyes Is Back," "Some Nice Things I've Missed," "Trilogy," "She Shot Me Down," and "L.A. Is My Lady") in the time between his return to show business and the "swan song" of his career (the "Duets" albums of 1993 and 1994, respectively), he was still hot at creativity behind the microphone with the creation of "single" recordings.
Most of these singles were release via 45-RPM record and slowly went out of print as the compact disc soon overtook a marketplace that to that time, had relied solely on the vinyl record as their source of home music entertainment. Some singles were bunched into collections and made into LP records on the European market, primarily by the Italian division of Reprise Records, but none of these would ever find release in the United States.
The first time most of these single recordings became available in any type of digital format was upon the release of Sinatra's overwhelming twenty-disc box set encompassing all of the work for his label (The Complete Reprise Recordings) in 1995. Besides this high-profile and high-priced suitcase of a volume, most of these recordings have never further been released, with a few paltry exceptions of a single track placed on the tail end of one of the countless greatest hits compilations.
Since we've seen so many compilations released of Sinatra's work in the last ten to fifteen years, I'd like to give the powers that be an idea of sorts. Instead of focusing on the idea of the tired, repetitive gathering of his greatest performances, let's instead take a cue from the Tony Bennett discs at Columbia and focus on Sinatra during two specific periods of creative output.
Since most of the recordings from the 1970s and 1980s are unreleased on a small scale and sought after by consumers and fans who were unable to afford the exorbitant price of his Complete Reprise box, the creation of two new discs would each focus on his singles from both the 70s and 80s outside of the five studio albums previously released. In addition to "single" recordings, outtakes and alternate versions of tunes recorded but unreleased (found in great numbers on many Tony Bennett releases on Columbia) can also be included.
Due to the fact that most of the singles made in the early 1970s before his "retirement" would find their way onto LP albums of the era (namely "Sinatra & Company" and "Greatest Hits, Volume II"), they have been thoughtfully omitted. Also, with thoughts on the capacity and listening length of modern compact discs, some songs from these two eras have also been omitted in favor of others due to their popularity amongst Sinatra fans.
While some would classify some of his work in the 1970s and 1980s as "kiddie pop" and inferior to his classics, most Sinatra fans would be sure to agree that there is some great, catchy music in this material, from swinging up-tempo numbers, to flirtations with modernity, to the moaning yet beautiful ache of his trademark saloon songs. With a mind on fantasy, the track listings for two new Sinatra discs would look something like this:
Sinatra: The 70s
-Bang Bang (My Baby Shot Me Down) (recorded 06/04/1973)
-The Hurt Doesn't Go Away (recorded 06/05/1973)
-Walk Away (recorded 06/22/1973)
-Empty Tables (recorded 05/07/1974)
-Everything Happens To Me (recorded 09/24/1974)
-Just As Though You Were Here (recorded 09/24/1974)
-The Only Couple On The Floor (recorded 03/05/1975)
-I Believe I'm Gonna Love You (recorded 03/05/1975)
-Oh Babe, What Would You Say (recorded 03/12/1975)
-Anytime (I'll Be There) (recorded 03/05/1975)
-The Saddest Thing Of All (recorded 08/18/1975)
-I Sing The Songs (recorded 02/05/1976)
-Empty Tables (with piano, recorded 02/05/1976)
-Send In The Clowns (with piano, recorded 02/05/1976)
-Stargazer (recorded 06/21/1976)
-I Love My Wife (recorded 11/12/1976)
-Evergreen (recorded 11/12/1976)
-Everybody Ought To Be In Love (recorded 01/17/1977)
-Nancy (recorded 03/09/1977)
-Emily (recorded 03/09/1977)
-Linda (recorded 03/14/1977)
-Sweet Lorraine (recorded 03/14/1977)
-Barbara (recorded 03/14/1977)
-Isn't She Lovely (outtake from "Trilogy" recorded 08/22/1979)
Sinatra: The 80s
-Say Hello (recorded 07/21/1981)
-It's Time For You (recorded 05/20/1980)
-Everything Happens To Me (recorded 04/08/1981)
-To Love A Child (recorded 12/05/1981)
-Love Makes Us Whatever We Want To Be (recorded 08/17/1982)
-Searching (recorded 08/17/1982)
-It's Sunday (orchestral version recorded 01/19/1983)
-Here's To The Band (recorded 01/25/1983)
-All The Way Home (recorded 01/25/1983)
-It's Sunday (voice/guitar duo recorded 02/28/1983)
-How Do You Keep The Music Playing? (recorded 03/16/1983)
-Body and Soul (outtake from "L.A. Is My Lady" recorded 04/13/1984)
-Stormy Weather (outtake from "L.A. Is My Lady" recorded 04/17/1984)
-Mack The Knife (original vocal recorded 04/16/1984)
-The Girls I Never Kissed (recorded 10/30/1986)
-Only One To A Customer (recorded 10/30/1986)
-The Girls I Never Kissed (recorded 01/18/1988)
-Leave It All To Me (recorded 01/18/1988)
-My Foolish Heart (recorded 06/06/1988)
With respect to my fellow Sinatra fans in mind, I've also intentionally left off the 70s list, the attempts to bring "All or Nothing At All" and "Night and Day" up to date with disco arrangements by Joe Beck, recorded by Sinatra in 1977. Lambasted at times by even the most fervent FS devotees, I do have to admit that the live recordings ("Live at Westchester," as well as the 1977 TV special "Sinatra and Friends) of Sinatra singing the disco arrangement of "Night and Day" fare much better then the studio version.
With Universal Music Enterprises now controlling the majority of Sinatra's recorded work in conjunction with the Sinatra estate, in a market that is seeing new Sinatra product released each year, is a concept like the one just presented one that would be too far-fetched to bring to light? I think not. With the release of another new box set of Sinatra material arriving in less than a month, I look forward to seeing if those who work on these releases will pull something similar from their production sleeve.
Until next time, Sinatra lovers!
Jerry Pearce is an amateur singer in the vein of Frank Sinatra, Perry Como, and Dick Haymes and has released two discs of standards music, Crossroads in 2010, and One Summer Night in 2016. Samples of his music can be heard on his YouTube Channel. To purchase his CDs use the form box below.
Comments or questions are welcome.