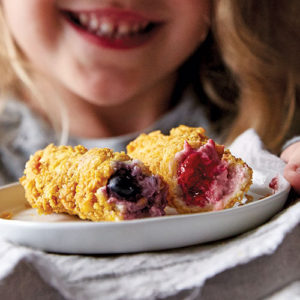 By Kristi O'Toole
A delicious and fun twist on French toast with a fruity filling and a crunchy coating!
Ingredients:
• Oil for brushing pan
• 3 oz (90 g) cream cheese, softened (about 1/3 cup/75 mL)
• 3 tbsp (45 mL) blueberry, strawberry, or raspberry jam
• 2 eggs
• 1/4 cup (50 mL) milk
• 3 cups (750mL) cornflake cereal
• 10 slices soft white bread
• 1/2 cup (125 mL) fresh blueberries, chopped strawberries, or raspberries
• Powdered sugar or maple pancake syrup
Directions:
-Preheat the oven to 425°F (220°C). Brush the Large Bar Pan with oil using the Chef's Silicone Basting Brush
-In a small bowl, combine the cream cheese and jam. Mix well and set aside.
-In the Small Batter Bowl, whisk the eggs and milk with the Stainless Steel Mini Whisk. Pour the mixture into a Coating Tray.
-Place the cornflakes into a large resealable plastic bag. Using your hands, crush the cornflakes into very fine crumbs and pour into a second Coating Tray.
-Stack 2 or 3 bread slices and use a serrated knife to remove the crusts. Roll each bread slice with the Baker's Roller®. (Bread should be flattened, but not paper thin.)
-Spread a thin layer of the cream cheese mixture onto one side of each bread slice. Place the fruit in a row on one edge of the bread, then roll tightly.
-Dip 1 bread slice at a time into the egg mixture, then roll in the cornflake crumbs.
-Place dipped rolls onto the pan. Bake 12–14 minutes, or until the rolls are lightly browned. Let them stand a few minutes to cool (the fruit gets very hot). Serve with powdered sugar or syrup.
Kristi stays busy with her writing, shoe designing and Pampered Chef business so she knows how precious time can be; she also knows how important eating healthy and showing your children life beyond fast food can be. The Pampered Chefs Happy Families segment is designed with busy lives in mind. The recipes presented will be fast, easy and affordable to everyone. The tools you need to complete these meals can be found on her personal website.
Comments or questions are welcome.