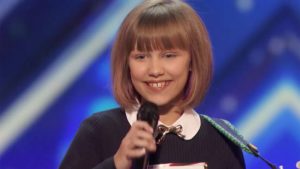 By Kristi O'Toole
After a season full of talented performers and surprising, awe inspiring acts, America's Got Talent finally found its winner – 12-year-old singing sensation Grace VanderWaal!
The young lady wowed the judges during her audition when she chose to sing an original song. Her performance and voice took them all by surprise, and notoriously difficult judge Simon Cowell even called her the "next Taylor Swift."
Judge Howie Mandel was so impressed, that he sent her straight to the final round by hitting the Golden Buzzer!
Now, VanderWaal has the opportunity of a lifetime to continue on her track to stardom with the $1 million prize and her own headlining show in Las Vegas, after beating out the mind-reading pair The Clairvoyants.
The audience and viewers at home were able to vote for the winner after her impressive performance the night before, and thanks to them, she snagged the coveted win. The tension was certainly palpable in the heart-pounding moments just before the winner is announced.
But as soon as VanderWaal's name is called, she immediately collapses onstage in front of millions of viewers. She's in tears, overwhelmed with relief and happiness. She truly deserves her prize after all of her hard work and discipline.
And singing in front of an audience and on national television is certainly no picnic for anyone, perhaps even less so for someone her age.
When Kristi isn't writing for NewzBreaker, she writes supernatural suspense novels having three currently published. If you would like to check out any of her books they can be found online and at other major retailers like Books a Million and Amazon. Never one to rest, she also paints/designs shoes and items for the home. Check out her eBay store, Watered Down Vodka and her FB page.
Comments or questions are welcome.