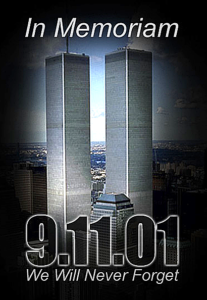 By Misty Beck
On September 11, 2001 this nation witnessed the deadliest terrorist attack in world history. Terrorist group Al Qaeda led by Osama Bin Laden claimed responsibility for the coordinated attacks which left 2996 dead including the perpetrators, and over 6000 injured. This was the most devastating attack on US soil since Pearl Harbor on December 7, 1941.
Although the initial death toll once stood at 2996 there have been several people who worked or lived in lower Manhattan at the time of attacks that have been diagnosed with cancer as a result from exposure to toxins. A reported number of 1400 9/11 rescue workers who responded to the scene days and even months after the attacks have since died including unborn babies. This leaves the actual death toll not only unknown 15 years later, but unfortunately still rising as each person loses their battle with cancer.
I'll never forget that day. I, like most here on the West Coast were barely waking to start their work day or still sleeping. I was fast asleep when the telephone rang around 5:50 AM that Tuesday morning. I answered it a bit startled when I recognized my sister Melody's phone number at such an odd time. I picked it up and to my surprise, she sounded pleasant and calm. She said "Turn on the news a small private plane hit the World Trade Center. I hope there's not too many people dead or injured." I grabbed the remote and fumbled around with it before hitting power. I'm not sure why my hands were trembling, but I guess it was just the thought of the poor people on the private plane meeting such a tragic demise. I had no idea that I was about to witness the horror that would ensue that day.
I remember Melody hanging up quickly so she could continue getting ready for work. I just sat there watching the smoke spew from the North Tower. The reporters were speaking to their audience, but I wasn't listening. Their voices became inaudible and I was just in a trance like state. I felt tears swelling in my eyes as the cameras cut to the shocked New Yorker's on the street below. I became overcome by panic just as they were. Then without warning, the second plane slammed in to the South Tower. I literally screamed out loud. I nearly fell off my bed as I stumbled to my feet and ran down the hall toward my mom's room. I woke her up yelling "Something is happening in New York! Something Horrible!" She quickly turned on her television by this time every channel displayed the same horrific scene America was under attack.
The Hysteria in lower Manhattan was difficult to watch, but we couldn't peel our eyes from the TV if we tried. I looked over at my mom and tears were streaming down her face. Her expression was that of shock and dismay. We sat there on her bed and we held on tight to one another. I buried my face in her chest and though the world was coming undone around us I felt safe for a few moments…Moments that were fleeting. The reality of this ominous day would prove to be too horrific to find any comfort or sense of safety. We were not safe that day, none of us were.
The next thing we see are the ghastly images of the jumpers from both towers. I read somewhere that over 200 people either made the choice to end their lives by jumping, sadly choosing that over being burnt alive or simply fell while trying to escape the thick smoke which must have been unbearable. My heart was weeping for them and their families. I couldn't watch anymore. I was consumed with such sadness and despair. Even as I'm writing this I feel a lump in my throat and my hands are quivering. My memories of that day are still so vivid.
As you know the terrorist's didn't stop there at the World Trade Center. They crashed into the Pentagon, but their final flight headed to Washington DC was thwarted by passengers Todd Beamer, Thomas Burnett, JR. and Mark Bigham. Regretfully I can't name everyone who lost their lives that day aboard Flight 93 or in the World Trade Center and Pentagon attacks. There are simply too many lives lost. That's just the sad truth. I have watched coverage over the years where they read each name and I have prayed for and honored all of them in my heart.
I wanted to share my experience because I imagine others have similar experiences as they watched our world change before our eyes that day. Honestly I have become overwhelmed with emotion.
I will never forget the lives that were lost or the heroic actions of the emergency and rescue teams that first responded as well as the strength and faith I witnessed by the city of New York and America as a whole. Through all that chaos and fear we were able to find strength as the events unfolded over the days, months, and now years after the attacks.
We have rebuilt what was once Ground Zero with a beautiful memorial for those who lost their lives that day. In 2013, One World Trade Center was completed standing at an incredible 1792 feet to tip. That's 430 feet higher than its predecessor which stood at 1362 feet. We are resilient and strong!
I am truly proud to be an American.
Comments or questions are welcome.