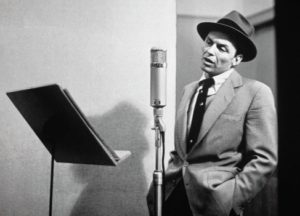 By Misty Beck
Frank Sinatra was born Francis Albert Sinatra on December 12, 1915. He is by far one of the most popular and influential artists of the 20th century. His music has captured his listeners for nearly 80 years and is still going strong. Various songs have appeared on motion picture soundtracks as well as commercials and television shows. The popular sitcom Married with Children opened to Love and Marriage, just to name a few ways his music has remained in today's mainstream media and millions of hearts around the globe.
Though I never had the opportunity to witness him live, I've spent over 20 years falling for the iconic crooner. My swingin affair with Frank started about 6 1/2 months before his death on May 14, 1998. I knew that I would never get the chance to see him perform he was 82 and hadn't performed since 1995, but that didn't stop me from becoming a super fan nearly over night really.
It was December 1997 and I was dating a man who stood me up that Christmas Eve and later broke my heart…Don't worry Frank was there to pick up the broken pieces that night and many nights ever since. I showed up at this bar called the Black Light in Hollywood California. It was a seedy part of the city. Mr. Heart Breaker resided there so I decided to drive the 40 minutes from my city and await his page. Yes, page…Pagers or beepers they were called both and they were the main way folks communicated back then. I suppose a few of the elite had cell phones all ready, but not I.
I stopped in this joint to have a cocktail it was about 10 pm when I arrived Frank was playing on the jukebox; the song was Strangers in the Night. The song was familiar, but I wasn't a fan not yet. I ordered a vodka tonic and made my way to the box. There was literally only four people in the joint Frank and I made six. As I approached the box I pulled out a $5.00 bill I imagined I'd be waiting a while for Mr. Heart Breaker, he was the type that made a woman wait. Just as the feeder ate up my bill I hear a man yelling out "hey don't waste your money, Frank will be playing all night" I asked "why is it broken?" He replied "nope I put about $40.00 bucks in there. It will be Frank until closing" I thought what the heck… No pun intended. I started browsing any way and adding songs.
Prince 1999, Michael Jackson's Pretty Young Thing, and probably Mariah Carey. I returned to the bar and the man scooted his stool close to me and he offered to buy me a drink. He was an older man maybe close to 70. He was extremely intoxicated. I declined, but that didn't stop our conversation from flourishing he told me all about Frank and how he'd listen to him when he was up and at times when he was down as he was this Christmas Eve. I started really listening to the words and the music. It must've been my 3rd vodka tonic when Summer Wind really resonated with me. That voice…Hmm. Then the next song All or Nothing At All. Yes, that's what I wanted from love! You're Driving Me Crazy…
Mr. Heart Breaker had definitely made me question my sanity… Back to Strangers in the Night. Here I am with this strange cat who had just opened my mind and ear to something fabulous! Frank Sinatra! That's when I realized that Frank was the sound track of my life. Surely he had other songs that I hadn't heard 1000's even. I was eager to start exploring. I had so much fun with the older man that I completely forgot about Mr. Heart Breaker so much so that the bar actually called last call.
I left the bar and headed home. I was too happy I found Frank to be angry that Mr. Heart Breaker never paged me. Our love affair fizzled out. While my love for Frank and that voice began to sizzle.
So Frank passed away only 6 1/2 months after I discovered my love for him. I spent about six months buying his albums, my favorite In The Wee Small Hours, and my cherished box set Frank Sinatra The Capitol Years. For the next 2 decades, I went on to discover my love for standards and other big band artists such as Ella Fitzgerald, Louis Armstrong, Dean Martin and the entire Rat Pack, and recently an amazing lady by the name of Julie London.
There's no special reason I'm writing about Frank…It's not his birthday or the anniversary of his death. However, after my last column about Prince, management told me "hey broad you better pen something about Frank real soon or we'll give ya your walkin papers". I'm kidding.
In closing Frank had a wonderful long life and career, in the end he truly did it his way. So many of the greats have passed on. Aint it grand that we can still enjoy them through their music and in Frank's case music and films?
Comments or questions are welcome.