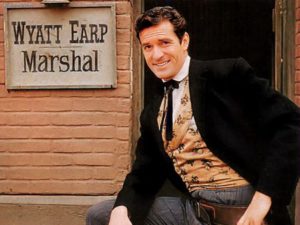 By "Bad" Brad Berkwitt
Sad news to report today at the NewzBreaker office. Beloved TV western star Hugh O'Brian who rose to fame as Sheriff Wyatt Earp on TV in what was called, television's first adult western has died at the age of 91. A representative from HOBY, a philanthropic organization O'Brian founded, says he died at home Monday morning in Beverly Hills.
THE LIFE OF AND LEGEND OF WYATT EARP debuted in September 1955. Unlike many TV westerns before which were aimed at younger kids such as The Lone Ranger and Hopalong Cassidy, Earp was for an older audience.
NewzBreaker extends our condolences to the O'Brian family in their time of grief.
Comments or questions are welcome.