Loading ...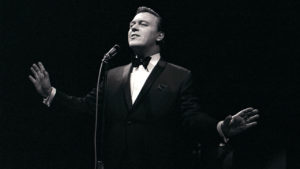 By Jerry Pearce
"If I had to choose three of the finest male vocalists in the singing business, Matt would be one of them." — Frank Sinatra.
This week's selection on "Pearce's Picks," is dedicated not to a series of specific albums by a certain artist, but to the artist himself. Like so many of the vocalists of his era, the name Matt Monro is one that deserves to be mentioned once again. If his name doesn't sound familiar to you, you best be warned to keep reading, and if the name sounds foreign to you, there's probably a good reason. Born and raised in a suburb of London, England, Monro was not only considered Great Britain's answer to Frank Sinatra, but also, one of the greatest voices ever to grace record players and stages across the vast Atlantic Ocean and throughout the world.
During the opening titles of the excellent 1969 motion picture "The Italian Job," cinemagoers watch the Italian actor Rossano Brazzi as he spins his way in an expensive sports car on a zig-zagging road across the Italian Alps, as a crafty, well-tuned baritone sings the Quincy Jones-Don Black composition "On Days Like These." Upon first hearing Monro's voice, some (like myself) would think that singer was an American (Andy Williams was my meager guess), but the soon-appearing song credit would prove the person wrong. In terms of film music, it wasn't the first time people would be intrigued by the voice introducing their movie.
Monro's career had a start that was somewhat similar to his American counterpart Sinatra (from talent show to big band to solo career), though the intervening years would find them in different parts of the show business spectrum. A more comprehensive biography can be found in the form of daughter Michelle Monro's biography "The Singer's Singer," but here, we will try to bring to light some major career aspects.
After serving a tour of duty overseas for the British Armed Forces, Monro first began appearing on the localized radio show "Talent Time" in the early 1950s. He was such a success and frequent winner of the show's top prizes that the program decided to devote an entire evening to him, with the burgeoning singer performing his first full concert before an audience in 1953. This would lead to a featured spot with the BBC Show Band in 1956, one of the top on-air musical ensembles in British radio at the time, culminating in his first record contracts near the close of the decade.
Monro was first signed with Decca Records, where he recorded the album "Blue and Sentimental," released on their subsidiary London label in April 1957. Featuring arrangements by Malcolm Lockyer and his orchestra, Monro croons his way through a velvet selection of music, including "Gone With The Wind," "That Old Feeling," "Once In A While, "A Cottage For Sale," and "I Cried For You." The album received rave reviews from commentators and listeners. Following his stint with Decca, he would accept another recording contract from Fontana Records, a subsidiary of the popular Phillips label.
Just as Monro seemed to be hitting strides, he would soon languish in a period of obscurity. Although some popular singers had already established and cemented their reputations by the late 1950s (Sinatra, Tony Bennett, Dean Martin and Perry Como among them), those on the rise had a harder time catching a hold on the listening public due to changing tastes in music, and Monro, along with singers like Johnny Desmond, Don Nelson, Johnny Janis, and Tommy Leonetti would feel this unsavory aspect impact them as they tried to further their singer careers.
Monro's comeback of sorts came in the form of movies. Beginning with recording a country-themed song for a compilation of Charlie Chaplin shorts, Monro soon found success as the voice behind film soundtracks. Over the next number of years, he recorded songs with Peter Sellers (the 1960 album "Songs For Swingin' Sellers"), a John Barry theme for a 1963 James Bond film (the title tune for "From Russia With Love"), the title tune for the 1966 film "Born Free" (again with Barry), as well as the aforementioned work for "The Italian Job."
George Martin, brainchild of classic albums created by The Beatles, took note of Monro's work while on the Sellers album, and managed to score Monro a new recording contract, this one for the music conglomerate EMI, and their subsidiary label, Parlophone. Martin would work exclusively with Monro as producer, helping the latter's career reach new heights.
Monro's association with EMI and their various recording companies would pave the way for the singer's greatest successes beyond the realm of motion pictures. Beginning with the 1961 release of his Parlophone album "Love Is The Same Anywhere" and throughout the rest of the decade, Monro would score chart-topping performances with the release of the songs "My Kind Of Girl," "Softly As I Leave You," "Born Free," as well as "Portrait of My Love."
It should be noted that, while it was never expressly reported in the media, Frank Sinatra or figures in his entourage must have been following the career of Monro a bit intently. Three of the four compositions mentioned above were recorded by Sinatra following the success Monro achieved with them.
His work with EMI would also herald one of his most cherished albums, "Matt Monro Sings Hoagy Carmichael," a twelve-track tribute to the "Stardust" songwriter featuring Monro backed by the Johnnie Spence Orchestra, recorded in 1962. Considered one of the singer's best, the album would languish in out of print form for many years before being released as part of an EMI special collection in 2011 entitled "Words and Music," that would partner the Carmichael album with other Monro outtakes, as well as an abridged spoken version of Monro's 2010 biography.
Other albums recorded while with EMI under George Martin's supervision in the mid-1960s include "From Hollywood With Love," "Walk Away," and "All My Loving." Monro later moved to Capitol Records in Hollywood during the later 1960s, recording several great albums with arrangers Sid Feller and Billy May, including "Here's To My Lady," "This Is The Life," "Invitation to Broadway," "These Years," "The Late, Late Show," and "Close To You." Several of these albums were joined into pairs and released on compact disc in the late 1990s and early 2000s, although nearly all of them, like their vinyl counterparts, have since gone out of print.
With the decades turning once again after the release of his last Capitol album in 1970, Monro returned to both EMI and his native England, where he would record his final two studio albums, released under the Columbia banner ("For The Present" in 1973 and "The Other Side of The Stars" in 1975). Among the wonderful tracks on these albums include a beautiful version of Jimmy Webb's "Didn't We," a personal favorite and a recommended listen. Monro would finish the 1970s with the notable recording of "If I Never Sing Another Song," released as a single in 1979, since regarded as a well-crafted contemporary standard.
He would continue to delight audiences from the stage throughout the remainder of his career, and after nearly thirty years of making records and performing, Monro died of liver cancer in London in early 1985.
His memory lives on through the creative efforts of his family members, primarily his two children born during his second marriage with wife Mickie Schuller, Matt JR. and Michelle. Besides recording a tribute album that combined both he and his father's voices in the mid-1990s (Matt Sings Monro), Matt Monro, JR. continues to tour throughout the world with a musical act in tribute to his father's legacy, while sister Michelle has written an extensive biography on the elder Monro's life (The Singer's Singer).
While most of his original albums remain out of print, Monro's music lives on in the form of compilation discs gathering his greatest hits and available at many online retailers in America.
However, for those looking to investigate the whole of his career, one may be interested in purchasing the box set, "The Singer's Singer." Produced as a companion piece to the written biography, this deluxe package features one hundred of the singer's finest selections as well as an extensive booklet detailing his discography, photos, tributes from fellow singers, as well as another essay written by Michelle Monro. It is considered the best overview of the singer's career (coupled with the previously mentioned "Words and Music"), and like the rest of the material you'll see highlighted on his column each week, is highly recommended. So what are you waiting for?
Until next time, music lovers!
Jerry Pearce is an amateur singer in the vein of Frank Sinatra, Perry Como, and Dick Haymes and has released two discs of standards music, Crossroads in 2010, and One Summer Night in 2016. Samples of his music can be heard on his YouTube Channel. To purchase his CDs use the form box below.
Comments or questions are welcome.