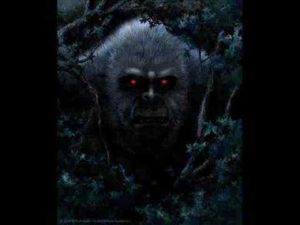 By Kristi O'Toole
In my last article I covered one terrified families first encounter with the Cowman. If you thought that scary, I dare you to keep reading.
After sending Jon, JR. rolling the creature never paused, it continued to run at amazing speed and loop back towards the woods.
I imagine some of you are shaking your heads thinking, 'No way'. But I would argue and say this behavior is that of an intelligent human style thinking as if to send the family a warning. Just from what I know so far, this creature could very easily have killed Jon, JR. or SR., but did not. Yet.
Once the creature was clear of Jon, JR., Sr fired off the remaining shots from his pistol but assumed every one had missed as the creature never paused or flinched before disappearing into the dark woods. Now rushing over to check on his son, Jon jr had been so fixed on running to the house that he never saw the creature coming; he explained to his dad that he was slammed into by a big black animal and asked if ti had been a bear.
Jon raced into the house to find his wife in a state of panic and yelling, she demanded to know what the gunshots were for and if they were alright. Neither of the fellas could catch their breath long enough to explain what had just happened. Sputtering for her to lock the back door, Jon fumbled the telephone as he exclaimed he was calling the sheriff.
Putting the phone down, Jon realized what a fool he would sound like if he told the sheriff that a boogie man chased him out of the woods. Jon told his wife he wasn't sure exactly what he saw, that it may have been a bear or something similar; he instructed his family to keep the doors locked and to stay away from the windows. Around 10pm and the with the kids in bed, Jon and his wife sat down to watch television when they heard loud wails coming from the woods. It sounded like the siren from the local volunteer fire department but ended with a 'whoop, whoop'.
Now I find that part very interesting as in the modern television program, 'Finding Bigfoot', the crew always 'whoop' into the woods. Please bear in mind the story you're reading of the Cowman happened back in the 60's, long before TV influenced crazies.
Jon hated to tell his wife the terrifying truth, that the noises were the Cowman, but that's exactly what it was.
Extremely frightened, Jon's wife wanted to call the sheriff but Jon convinced her that would sound crazy and he would handle it himself. The noises quieted around midnight and the pair went to bed. Jon wanted to stay up but after working all day and then the evenings excitement he was exhausted. When they woke, the kids were already up eating breakfast. The first thing little Jon said to his dad was he had heard the Cowman rubbing up against the house last night but was too scared to get out of bed and get someone. The Tim chimed in with a bone chilling remark, he said, "The Cowman talks funny."
Thinking his little one could be letting his imagination run wild, Jon asked if the Cowman had been in his room. Tim protested and said, "No, he's far too big for my room. He was talking to me through my window." When prompted to tell his father what the Cowman had said, Tim replied that he made funny noises like 'Ooh, Ahh, Ohh' and that he had teeth like Lincoln Logs when he smiled. The creature had evidently spent quite some time chatting with the boy through his window and making faces. The boy then told his father that it had laid down under his window and fell asleep and that he could hear it snoring.
Jon was shocked and terrified, he told his kids to get dressed and that they were staying over at their aunt's for the day. After his wife and kids left, Jon called one of his friends and crew members to come over. To protect his identity, he'll be called Patrick. He was an ex state patrolman who had been kicked off the force for his excessive drinking. When Patrick arrived, Jon asked him if he wanted to go hunting. Knowing it wasn't hunting season, Patrick exclaimed he wasn't into poaching and didn't want to know if Jon was. It was then explained to him that what was being hunted wasn't a deer.
After being filled in on the previous night's events, Patrick didn't necessarily believe Jon, but could see that he was sincere and still visibly shaken so tagged along. Loaded with a 30.06, a .38 and a 12 gauge the pair started by circling the house looking for evidence of a visitor. Around the back of the house there was a mud patch where the water spigot leaked, in the center of the mud patch was a huge foot print. It had to be at least 18inches and was so perfect it looked like it had been left on purpose, and off to the side of the print was 4 long streaks in the mud, as if someone had run their fingers through it. When the pair cut the corner and came to Tim's bedroom window, it became immediately apparent what the streaks had been for. Above the child's window, about 7 ft. up were four long mud streaks on the wall.
Not scared yet? Stay tuned for part three of the Cowman and you certainly will be.
The Cow Man of Copalis Beach: Elaborate Story Or Terrifying Truth Part I
When Kristi isn't writing for NewzBreaker, she writes supernatural suspense novels having three currently published. If you would like to check out any of her books they can be found online and at other major retailers like Books a Million and Amazon. Never one to rest, she also paints/designs shoes and items for the home. Check out her eBay store, Watered Down Vodka and her FB page.
Comments or questions are welcome.