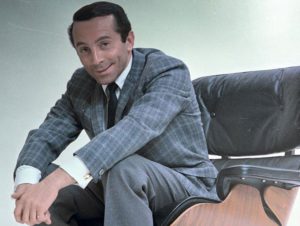 By Jerry Pearce
This week on "Pearce's Picks," we look over the sound of one of the great Italian pop crooners of our time, the great Al Martino, a career in music that spanned more than fifty years.
While to mainstream audiences, he is today remembered fondly for his brief but memorable portrayal as distant Corleone family member and troubled multifaceted entertainer Johnny Fontane in Francis Ford Coppola's 1972 motion picture "The Godfather" (a character carried over from the Mario Puzo novel undoubtedly based on the notoriety of a brooding Frank Sinatra).
While his scenes are among the first to be recalled when thinking of that cinematic masterpiece, the film offers only a momentary glimpse at the instrument that helped make him a household name: his rich baritone voice, performing the ballad "I Have But One Heart" in both English and Italian. In addition, Martino performed the lyrical version of the love theme written for the film, "Speak Softly Love," on the film's soundtrack, a melody heard often throughout the film as an instrumental.
His inclusion in "The Godfather" was yet another important benchmark for what was already a successful professional existence. Born Jasper Cini in the city of Philadelphia in 1927, Martino began his rise in the ranks of show business following a service stint in the United States Navy for the Second World War, storming across the battlefield in the invasion of Iwo Jima.
Returning stateside, Martino (the name adopted by advice from another good singer, and friend, Mario Lanza) recorded music for small labels and performed in nightclubs before he won a recording contract at Capitol Records, scoring several hit singles which made their way into the American top forty. Following a vague scuffle with the mafia, Martino spent a few years working in Great Britain before returning to America to record his first two full albums (Al Martino and Swing Along with Al Martino) with the music branch of 20th Century Fox Studios.
Their success would pave the way to a reunion with Capitol, with Martino recording several albums (beginning with The Exciting Voice of Al Martino and The Italian Voice of Al Martino), and among them, several chart successes and top ten hits that would endure throughout the 1960s. Perhaps his most well-known recording from this time was the 1965-vintage "Spanish Eyes," an instrumental composed by Bert Kaempfert with new lyrics written by Eddie Snyder. It achieved both gold and platinum status and even charted at number five in Britain when reissued some years later in 1973
Martino would record several more albums throughout the bulk of the 1960s and 1970s, and though a bit more sparsely as time progressed, he released a new album(s) in the 1980s, 1990s, as well as the 2000s, embracing songs from newer, modern songwriters as the years endured. Martino's rendition of the Paul Williams hit song "I Won't Last A Day Without You" recorded in the mid-1970s is one of the finest interpretations of the piece, not straying far from the orchestration of the original Williams version but complimented by the bold vocals displayed by Martino at the microphone.
Martino passed away in 2009, and while many of his original LP albums are out of print and available secondhand from online retailers, a large bulk of his greatest hits and other recorded material have survived into the compact disc and digital download era. Two pieces of that material are represented here this week as featured picks:
Great Gentlemen of Song: Spotlight on Al Martino (1996)
Capitol Records released this title as part of their "Great Gentlemen of Song" series, an 18-track compilation representing Martino's finest recordings during his years at the esteemed Hollywood label, a swell collection of music drawn from the Capitol albums of the greater 1960s, and while it does not include all of his "greatest hits" charted while working for the company, several noteworthy performances are included, among them stellar readings of "Don't Take Your Love From Me," "An Affair to Remember," "This Is My Song," "For All We Know," as well as the beautiful love song "Fascination." In a bit of odd movie trivia, "Fascination" was featured in the 2000 motion picture "Snow Day," where the disc jockey of the local outdoor skating rink is an avid Al Martino fan. With a slight hint of fun-poking (the joke being the young crowd having to stand listening to an old school voice), Martino's voice during the song "Fascination" relaxes one young skater into such a state of euphoria, he glides off the ice and over an adjoining guard fence. Martino's later 1990 recording of "To Each His Own" is also featured some scenes later during a scene with two young lovers gliding on the ice rink. 4/5.
Al Martino: Live in Concert (1993)
Recorded in New York City in 1990 and released a few years later by the Laserlight label, this title features a cordial Martino before a large audience backed by full orchestra at an unnamed venue. Despite the sparse liner notes and overall lacking production value (the program was recorded rather poorly, with the orchestra sometimes overpowering Martino's vocals in certain passages), the concert itself is an absolute treat, from the opening swing of a medley conjoining two travelogue tunes, ("Fly Me To The Moon" and "Let's Get Away From It All"), to beautiful readings of ballads like "Fools Rush In" and "How Deep Is The Ocean," as well as renderings of his hit recordings of "Speak Softly Love" from "The Godfather" as well as "Here In My Heart," one of his early chart successes in the fifties, capped by a medley of his other greatest hits culminating in the oft-requested "Spanish Eyes." Despite the shortcomings in its sound, the only audio representation of Martino in concert and a worthy addition to your library. 3.5/5.
Until next time, music lovers!
Jerry Pearce is an amateur singer in the vein of Frank Sinatra, Perry Como, and Dick Haymes and has released two discs of standards music, Crossroads in 2010, and One Summer Night in 2016. Samples of his music can be heard on his YouTube Channel. To purchase his CDs use the form box below.
Comments or questions are welcome.