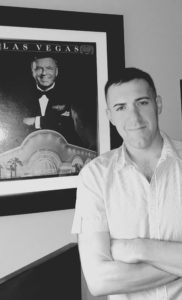 By Jerry Pearce
I've been listening to the music of Frank Sinatra regularly since my formative years of high school. In my sophomore year, I received my first Sinatra album as a Christmas gift from a classmate, a compact disc of Sinatra's next to final album at Capitol Records, the jovial 1961 release "Come Swing With Me," with Billy May and his orchestra. Riding home from school for holiday break, I popped the disc into my amber-colored (and now fiercely antiquated) Sony CD Walkman.
Listening to the sounds of May's lit brass section firing off stinging notes from both sides of my headphones on the opening track, "Day By Day," it was truly the first time I had listened to a Sinatra song that wasn't considered for (or ever part of) a greatest hits' compilation.
Up to that point, my Sinatra listening experience was limited to a twenty-track collection of his hits while running his own record company that I received from my grandfather (Sinatra Reprise: The Very Good Years), and it hadn't occurred to my young mind that there was more great Sinatra product out there awaiting discovery. The vocal and arrangement on "Day by Day" was stellar, and it inspired me to start investigating the whole of his other albums, to see what other wonderful music lay in store.
A noted author from the nearby town of Livingston proved to be a huge help to me via one of his books. At the time, I was attending school in Montclair, New Jersey, and one of my favorite pastimes throughout each school year was spending a few hours after classes each week walking through the narrow intricate hallways of the Montclair Book Center, our local literary agent, and dare I say one of the finest hole in the wall facilities you'll ever visit. To this day I can tell you, if there's some time to kill, and you want the kind of bookstore experience you'll never get at a Barnes and Noble, visit Montclair.
It was one of those grey, blustery, "coming out of winter but not quite spring yet" days that I walked into the bookstore and began wandering aimlessly. I found myself in one of those low-ceiled corners in the rear of the store where titles and biographies about celebrities seemed to stretch on for shelf upon shelf. Sticking out a bit in the music section was the beige-colored back of a softcover book with black binding. Pulling it off the shelf, I was met with a shot of Frank in his prime recording at Capitol Records, clad in his trademark fedora, suit and tie, standing back slightly as he captured the perfect notes of a song. The book was called "Sessions with Sinatra," written by Charles Granata.
Scanning through the volume quickly, I saw that not only did it have a detailed history of Sinatra working in the studio, but there were also a few appendixes listing all of his albums as well as a list of fifty recommended Sinatra songs. I needed to see no more. I flipped open the front cover of the book. Scribbled in pencil on the top right corner of the first page was a figure: $12.00. I pulled out my wallet and started counting my singles (getting a real job was still a year away). With a few quarters in my back pocket, I had just made it. Off and running to catch the twenty-nine bus home to Newark, that day was the beginning of an obsession with a singer's career that left many a future girlfriend shaking their heads.
Today, Sinatra fandom consists of casual listeners and die-hard fanatics. I like to think I fall somewhere in the in-between. I've learned and committed to mind an enormity of Sinatra trivia, all thanks to wonderful authoritative titles written by Chuck Granata, Will Friedwald, Gary Doctor, Anthony Summers, Tom Santopietro, Earl Wilson, J. Randy Taraborelli, Arnold Shaw, not to mention releases from the Sinatra family itself. But having met new Sinatra fans in recent years (especially after joining an impressive legion of Sinatra friends in a group on Facebook), I'm consistently amazed by the wealth of unique Sinatra knowledge that individuals have amassed, some of it downright eye-widening to me. If only the friends who had labeled me as the "Sinatra addict" knew, that there were zealous fans even more informed then myself!
I've been working on these articles mainly to appeal to the casual listener, to present to them a slice of history that might be unfamiliar to them, but common knowledge to a die-hard fan. For the casual listener who has an itch to start investigating Sinatra beyond his greatest hits, just like some dumb kid swinging back and forth to the sounds of "Day by Day" on his bus ride home from school, I present a list of ten Sinatra songs from ten different albums he recorded during the course of his Reprise Records era. I firmly believe, after listening to each of the songs displayed here, you'll be inclined to listen to the rest of the respective album on which the track lies. Immersing yourself into the sound of a Sinatra song for the first time is much like delving into a delicious bag of potato chips: one is never enough.
I Won't Dance – a Jerome Kern classic from Sinatra's first collaboration with Count Basie in 1962, with a swingin' arrangement written by the legendary Neal Hefti and the Basie aggregation performing at full tilt. His second performance of this song, the first in 1956. Available on the album "Sinatra/Basie."
Swinging On A Star – the classic standard written by Johnny Burke and Jimmy Van Heusen and arranged by Nelson Riddle in 1963. Available on the album "Frank Sinatra Sings Academy Award Winners."
I Have Dreamed – another piece arranged by Nelson Riddle of the Rodgers and Hammerstein show tune from the Broadway production of "The King & I," performed with a full symphonic orchestra recorded at the Goldwyn Soundstages in 1963. Available on the album "The Concert Sinatra."
I Can't Believe I'm Losing You – a memorable Sinatra song written by Phil Zeller, arranged by Don Costa and released as a single in 1963. Available on the 1964 "pick-up" album "Softly, As I Leave You."
All I Need Is The Girl – another Broadway show tune, this one from the production of "Gypsy" written by Jule Styne and Stephen Sondheim and arranged by Billy May for a session produced in 1967 featuring Sinatra with Duke Ellington and his orchestra. Available on the album "Francis A. & Edward K."
The Single Man – arranged by Don Costa, a unique performance by the Chairman, part of a special suite of music written exclusively for Sinatra by poet Rod McKuen. Available on the 1969 album "A Man Alone."
Triste – the gentle guitars and rhythm of bossa nova, from Sinatra's second collaboration with Brazilian composer (and writer in question) Antonio Carlos Jobim, arranged by Eumir Deodato and recorded in 1969 (released in 1971). Available on the album "Sinatra & Company" and the collection "Sinatra-Jobim: The Complete Reprise Recordings."
You and Me (We Wanted It All) – arranged by Don Costa, a beautiful modern love song written by Peter Allen and Carole Bayer Sager featured prominently in the 1981 film "They All Laughed." Available on the 1980 album "Trilogy."
You're So Right (For What's Wrong In My Life) – written by three writers, including Teddy Randazzo, recorded as part of Frank Sinatra's 1973 comeback album following his brief first retirement, this love song was written by and arranged by Gordon Jenkins. Available on the album "Ol' Blue Eyes Is Back."
It's All Right With Me – written by Cole Porter in 1953 for the musical "Can-Can." Sinatra later starred in the 1960 film version. This version was recorded with an all-star orchestra led by Quincy Jones and arranged by Sammy Nestico in 1984, Sinatra's second attempt at the song. Featured on Sinatra's final solo album "L.A. Is My Lady."
Until next time, Sinatra lovers!
Jerry Pearce is an amateur singer in the vein of Frank Sinatra, Perry Como, and Dick Haymes and has released two discs of standards music, Crossroads in 2010, and One Summer Night in 2016. Samples of his music can be heard on his YouTube Channel. To purchase his CDs use the form box below.
Comments or questions are welcome.