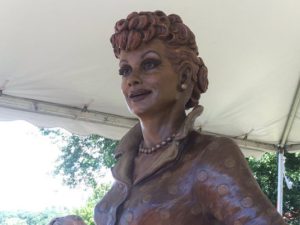 By Kristi O'Toole
It looks like Lucy's got that Vitametavegamin taste out of her mouth – she's finally smiling! New Lucy was unveiled this week to the delight of many fans. The bronze work of art in the town of Celoron, New York, that made a menacing figure out of the iconic (and quite beautiful) comedian Lucille Ball is no more. The original statue caused quite a few gasps during it's 2009 unveiling as it was a quite frightening and unflattering representation of the comedic beauty.
The new statue, created by sculptor Carolyn Palmer to replace the original work of art, is much more lifelike and features Ball in a polka dot dress. Ball is standing – at 6 ft. tall – on a copy of her Hollywood star, and has a purse on her wrist and a string of pearls around her neck.
When Kristi isn't writing for NewzBreaker, she writes supernatural suspense novels having three currently published. If you would like to check out any of her books they can be found online and at other major retailers like Books a Million and Amazon. Never one to rest, she also paints/designs shoes and items for the home. Check out her eBay store, Watered Down Vodka and her FB page.
Comments or questions are welcome.