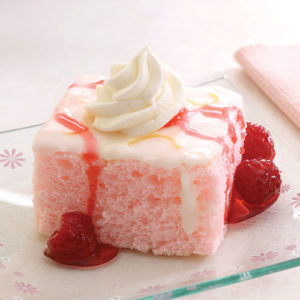 By Kristi O'Toole
Tender Angel Food cake with a lemony glaze and topped with raspberries will have your guests asking for seconds.
Ingredients:
5 drops of red food coloring
• 1 pkg (16 oz or 430 g) angel food cake mix
• 3 lemons
• 2 cups (500 mL) powdered sugar
• 2 cups (500 mL) thawed frozen fat-free whipped topping
• 1 pkg (10 oz) frozen raspberries in syrup, thawed
Directions:
Preheat oven to 350°F (180°C). For cake, add food coloring to amount of water specified on package. Prepare cake according to package directions. Pour batter into Rectangular Baker. Bake on center rack 35-40 minutes or until top is golden brown, cracked and center is slightly sunken. (Do not underbake.) Remove baker from oven; invert onto Stackable Cooling Rack. Without removing baker, let stand until completely cool (about 1 1/2 hours).
Poke holes in cake about 1 1/2 in. (4 cm) deep and 1/2 in. (1 cm) apart with large fork. Zest lemons using Zester/Scorer to measure 1 tbsp (15 mL) zest. Juice lemons using Juicer to measure 1/3 cup (75 mL) juice. In Small Batter Bowl, combine sugar, juice and zest; whisk until smooth. Pour glaze over cake, spreading evenly. Let stand 30 minutes or until glaze is set.
Attach open star tip to Easy Accent® Decorator; fill with whipped topping. Garnish each serving with whipped topping; top with raspberries.
Kristi stays busy with her writing, shoe designing and Pampered Chef business so she knows how precious time can be; she also knows how important eating healthy and showing your children life beyond fast food can be. The Pampered Chefs Happy Families segment is designed with busy lives in mind. The recipes presented will be fast, easy and affordable to everyone. The tools you need to complete these meals can be found on her personal website.
Comments or questions are welcome.