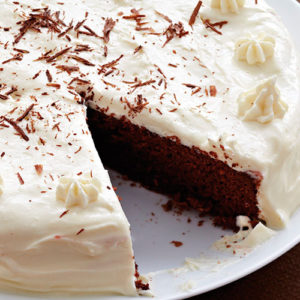 By Kristi O'Toole
This is the perfect cake for those special occasions like Monday, Tuesday, Wednesday, Thursday… oh you get it.
Ingredients:
• 1 package (19.5-21 ounces) fudge brownie mix (plus ingredients to make cake-like brownies)
• 2 squares (1 ounce each) white chocolate for baking
• 2 tablespoons milk
• 1 package (8 ounces) cream cheese, softened
• 1/4 cup powdered sugar
• 1 cup thawed, frozen whipped topping
• 1/4 cup cherry or seedless raspberry preserves
• Chopped nuts or grated chocolate (optional)
Directions:
Preheat oven to 325°F. Spray Nonstick Cake Pan with nonstick cooking spray. Prepare brownie mix according to package directions for cake-like brownies; pour batter into pan, spreading evenly. Bake 38-40 minutes or until wooden pick inserted in center comes out with some moist crumbs attached. Cool 20 minutes; invert onto Stackable Cooling Rack and remove pan. Cool completely.
Place white chocolate and milk in Small Batter Bowl. Microwave on HIGH 1 minute; stir until chocolate is melted and mixture is smooth. Microwave an additional 10-20 seconds if necessary. Cool slightly. In Classic Batter Bowl, combine cream cheese and powdered sugar; mix well. Gradually stir in white chocolate mixture; mix until smooth. Fold in whipped topping. Attach desired tip to Easy Accent® Decorator. Fill with 1/2 cup of the cream cheese mixture; set aside for garnish.
Spread preserves evenly over cake. Frost cake with remaining cream cheese mixture. Pipe a decorative border around edge of cake using decorator. Garnish with chopped nuts or grated chocolate, if desired. Refrigerate until ready to serve.
Kristi stays busy with her writing, shoe designing and Pampered Chef business so she knows how precious time can be; she also knows how important eating healthy and showing your children life beyond fast food can be. The Pampered Chefs Happy Families segment is designed with busy lives in mind. The recipes presented will be fast, easy and affordable to everyone. The tools you need to complete these meals can be found on her personal website.
Comments or questions are welcome.