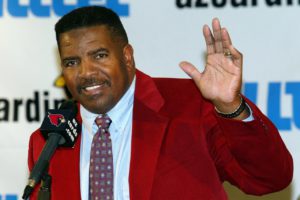 By "Bad" Brad Berkwitt
Dennis Green who was a head coach in the NFL for 17 years with both the Minnesota Vikings and Arizona Cardinals, passed away today at the age of 67. Green's cause of death was cardiac arrest. Being an African American coach when there weren't many, Green broke the color line and was beloved by his players.
He finished his NFL career with a win-loss record of 113-94 (0.546 winning percentage) in the regular season and 4-8 in the postseason. The 113 wins place 33rd on the NFL's all-time list.
NewzBreaker extends our condolences to the Green family in their time of grief.
Comments or questions are welcome.